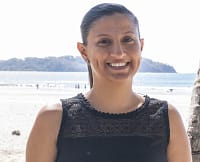 Silvia Baltodano Díaz, Lic.
Spanish Teacher (Sámara)
Silvia was born in Nicoya and as lived in Sámara her whole life. She completed high school in Nicoya, followed by the Universidad Latina in Santa Cruz, where she obtained her BA and Post-graduate teaching certification (Licenciatura) in Second Language Acquisition.
She has a young daughter named Valentina, with whom she loves to go the beach after work to play and see the sunset. In general, she likes to spend as much of her free time as possible with her daughter, and on Sundays the family goes to explore other nearby places. Silvia also enjoys going out with friends and attending fitness classes. For Silvia, living in Sámara and being able to work at the school is a privilege she would not easily change, as she loves life here at the beach.
"I am glad Silvia had so much patience with new learners. It made the class fun, yet it was still challenging and informative." – Adrian Guenther, 2023
"We had a lot of conversations this week what really helped improve my spanish talking." – Dominik Marti, 2023
"Silvia was incrediably patient with us and our constant conjugation errors. She is a great professor!" – John Stiggelbout, 2018
"Silvia is amazing, she is thoughtful and excellent at explaining grammar and leading conversations." – Emily Leisenheimer, 2019