WHAT STUDENTS SAY ABOUT INTERCULTURA COSTA RICA
Authentic student reviews will help you set real expectations for your immersion experience, and let you find the Spanish program that best fits your needs. Hearing past students share their learning experiences makes a big difference for future students and we are thankful for their feedback! Scroll down to read comments from real students of all ages and nationalities reviewing Intercultura, or watch student testimonial videos.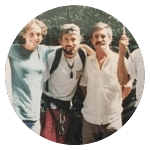 "I studied in Heredia in 1998 and lived with the most amazing (host) family. Thank you Intercultura Costa Rica for a life changing experience. Even 22 years on, I look back at my time in Costa Rica as the best 5 months of my life."
Lindsay Jones, 20 in 1998, USA
"It's our second time here and we wanted to come back, we were here 6 years ago for two weeks. I am really happy with the experience. I picked Intercultura because it is in Sámara, and the reviews were really good, and the staff who I was dealing with for booking were really good, it was Marianela and she was super nice and quick to answer, and that was important to me." (Marly, mother)
"My favorite thing about the Spanish classes was that we could do games while we were learning Spanish, and I met friends. I love the beach, we don't have beaches like this in Canada!" – Nehlia (daughter)
Marly Bernard, 37, CANADA  
2023
Es mi primera vez aprendiendo español, y yo aprendí mucho en una semana. Estoy impresionada con la instrucción del idioma, la organización y la calidad de la escuela. ¡Gracias! It's my first time Learning Spanish and I learned a lot in one week. I am very impressed with the instruction, the organization and the quality of the school. Thank you!"
Irina Kourilenko, 48, UKRAINE
2023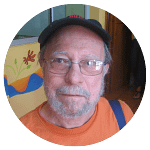 "I have been to Intercultura 10 times in the past 12 years. That speaks for itself. Students have different learning styles. I am impressed, as an adult educator, that Intercultura addresses these different styles."
Vernon Bell, 60-72, US
2000-2012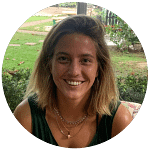 "It's very fascinating to meet so many new people from all over the world and to experience the authentic culture of Costa Rica, I really enjoyed that. Every teacher has a different way of teaching something, so from everyone you get something different. I really like the diversity and opportunities to grow and learn. Homestay is a great idea, I think host families are the most authentic way to get to know a place and a culture, and it's gone really, really well, she's adorable and I'm really grateful for everything she's done for me."
Meret Luethi, 26, SWITZERLAND
2023
"I love it here! It's my second time and I am going to come back once or twice more for sure. I've been here for 3 months and I love all the teachers and administrative staff and Sámara in general because it's just beautiful and there are so many nice people here and so much "pura vida" (pure life)."
"Me encanta aquí, es mi segunda vez y voy a volver otras veces de fijo. Estoy aquí hace 3 meses y me encantan todos los profesores y la administración y también Sámara en general porque es bellísimo y hay muchas personas simpáticas y mucha pura vida"
Jade Hickey, 27, Australia
2023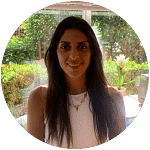 "I've really loved it at Intercultura, I was actually going to Mexico but there were security issues there, so a friend recommended Sámara and I called, all my questions were answered and every time I sent an email they responded right away, and it was just very punctual and professional. From the get-go up until now it's been like that. The classes are very good, I think structure-wise they're very well done and being a teacher I can relate to how it is structured and I would highly recommend it. There's a really good mix of classroom activities and there is really high-quality instruction, but there's also enough time for students to practice their Spanish and I think that's a really good mix between learning and application of material. Thank you for everything!"
Neveen Sharkawy, 32, USA
2023
"Thank you again for an amazing week, I want to come back! I'm a journalist (CNN Crime and Justice Journalist & Producer) and I live in Mexico City. Because of my job, I have to do interviews with Spanish speakers in all the stories I do, so it is important that my Spanish is very good. My week in Samara Beach has been very valuable in improving my speaking and listening skills and perfecting complex conjugations. The instructors are very friendly and fun and the school is a real community of people from all over who want to learn not only the language but also the culture of Costa Rica. I recommend that you come soon!"
David Shortell, 29, living in Mexico City
2022
"In my role as a trainer of teachers, I am keenly aware of what constitutes effective instruction…[and] as an educator, I recognized and experienced first-hand the excellence of Marcelo's instruction…..[He] has the ability to explain grammatical concepts with great clarity…he constructed excellent visuals which helped me comprehend and use the new learning. Equally effective was his insistence that all newly learned grammar be applied in conversation….It is my belief that [he] is an outstanding instructor, one of the finest I have encountered in my work as an educator."
Marc Becker Ph.D., 58, USA
1997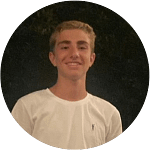 "I am from Portugal and came to Costa Rica to take Spanish classes and do volunteering. I was in Heredia first one week and I really liked the city, lots of activities, shops and things to do, and my homestay mother was great, and Hillary accompanied us everywhere and we really like her. The second week was at Sámara and I loved the beach, the staff, and the volunteering doing beach clean up and working with a local association for kids. Beijinhos, Joao"
Joao Barradas, 16, PORTUGAL
2023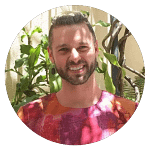 "I found a new confidence in my language abilities and discovered a community of incredible people in the wonderful place that is Intercultura."
Zachary Futterer, 31, USA, 31 years
1997
Positive and inspiring messages from students
Jane Gantz
"Thank you so much!  I hope you know how much I loved studying at Intercultura. To this day, after studying at language schools in Mexico, Spain, Perú, and Uruguay, Intercultura is the best school I have attended. It's not only because the instruction is the best, but the administration is top notch.   To this day, I always recommend Intercultura to friends (like Laurie Levine) who want to study Spanish!!!"
Jane Gantz (repeat student of many years) from USA
2018
Jake Fisher
"La experiencia mía en Intercultura me cambío la vida."
Jake Fischer – Return Student

Annette L.
How can you go wrong when the school is literally on the beach. They even have outdoor showers, hammocks and changing room. You walk out the front gate and you are on the beach. Every day you walk to and from school on the beach. Sámara is a beautiful small beach town but has lots of restaurants and bars and is great if you want to try surfing. The school is very organized and has set levels for classes…every classroom has AC and a smart board. There's wifi and free coffee, tea, filtered water and use of the kitchen and refrigerator…I had a great time and absolutely loved the beach!"
Annette L. from Switzerland
2018
Esie Jordan
"Studying in Heredia was so much fun. The Spanish teachers, the salsa classes at school, the food and the city energy was amazing. It felt like a calm, more intimate, sunnier town in London. I felt right at home. I visited the Samara campus too. It's chilled and utterly scenic, right on the beach, really fun and dynamic teachers. Spending time in both places is great, I was able to practice the Spanish I learnt in such different environments. I'm so glad I experienced both campuses! I even ended up coming back to teach English here, had an amazing time and am so sorry I have to leave!"
Esie Jordan from UK
November 2022 to June 2023

Thomas Schoenrich y Christine Meyer
"Even though it has been a few days since we left Samara, I would like to thank you all again.
Our language course last week was a lot of fun and I think we have learned a lot that we can use on our trip through Costa Rica.
The school is very well organized and from the pick up in Liberia to our last course day, also with our mama tica, everything worked out perfectly. Many greetings to all."
Thomas Schoenrich y Christine Meyer from Germany
2023

Britton Varn & Kids
I wholeheartedly recommend Intercultura for both adults and kids.  Three of my kids (ages 12, 9, and 7) enrolled there for 12 weeks last spring and had a fabulous experience.  We were at the Heredia campus for 9 weeks and the Samara campus for 3 weeks.  My kids had very basic Spanish before we went (numbers, colors, shapes, etc.), but zero comprehension or conversation skills.  Upon enrolling in school again here Colorado, my 7th grade son's middle school evaluated him in Spanish, and his Spanish level is beyond what they offer in the three years of middle school classes.  The teacher placed him at a 2nd year, 2nd semester high school level.  And both my 2nd and 4th grade daughters were able to enter into a full-Spanish immersion elementary program here.  My 4th grade daughter's teachers says that her conversation skills are better than her peers who have been in the program for 3 years.  All that's to say, I was extremely pleased at the progress that my kids made in 3 months!  We are hoping to return and attend classes at Intercultura on a regular basis.  I attended there for a month when I was in college as well, and it was definitely a turning point for me in my conversation and comprehension skills.
As to the safety of the area, I would feel comfortable sending my own son alone in a couple of years.  I was there alone (my husband had to stay in the U.S. for work) with four kids and never had any problems.  If your son is responsible, he will do great.  I trust the staff to take good care of the teens.  Your son will learn a ton and visit some amazing places.
United States
January – April 2018, 3-month program

Nicole Head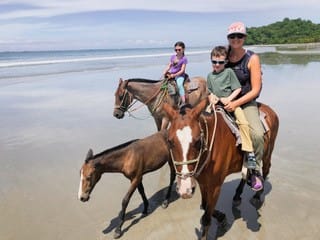 Family & Kids Program – Samara Beach Campus: We absolutely fell in love with Intercultura and can't wait to come again.  We took classes for 2 weeks and all of our teachers were very thoughtful, engaging, and talented.  I made giant leaps in my Spanish skills, but more importantly, my kids couldn't get enough.  My 9 year old daughter had been in a dual-language immersion school in the U.S. for 3 years and had never spoken Spanish in front of me.  If I spoke in Spanish to her, she would get frustrated and ask me to please speak in English.  After just one week at Intercultura, she was happily chatting with me in Spanish and asked me if we could keep speaking in Spanish together in the U.S..  She even got up in front of the entire school to read a poem in Spanish.  My 7 year old son, who had been more comfortable learning Spanish, made huge gains, and he felt confident leaving my side to go into class every day.  That was a huge surprise and definitely a testament to how well he bonded with his teacher.  We loved the empanadas and casadas available for purchase during breaks, the excursions, and the cultural immersion classes/language practice available after school.  We felt fully immersed in both the beautiful language and the culture of Costa Rica.
USA
July 2018
Camille Cumberbatch
Family & Kids Program – Heredia Campus: I cannot express the depth of our thanks to you and your wonderful team for the amazing experience we are having in Costa Rica and with Intercultura Costa Rica!!!
Our Mama Tica- Jeanette is an exceptional hostess! She is kind, considerate, helpful, generous and loving. We are very comfortable and happy staying at her home where she and her sons make us feel like family.  We are all learning so much about the Costa Rican lifestyle and values system.
Joshua is thoroughly enjoying his class experience and loves the dancing and meeting other international students. He is learning plenty from his teacher Annia, whom he respects and values deeply. He is definitely benefiting from his sessions with her.
The overall service has been exceptional! This whole process was problem free and stress less which we deeply appreciated. The administrative staff at the school were always welcoming, hospitable and helpful. The Costa Rican people are truly blessed and are a blessing to others.
We extend our heartfelt thanks and best wishes to you and the rest of the Intercultura team and truly hope to return with more friends in the future to enjoy Pura Vida!!
Muchas gracias,
Camille, Mike and Joshua
Trinidad and Tobago
July 2017

Marie-Claude Perrault
The Best Experience
"Intercultura provided me with an incredible and life changing experience. I was impressed with the quality of the teaching and the friendliness of the teachers. Everybody at Intercultura wants you to have a great time and an enriching experience and they go out of their way to ensure it. You will meet students from all over and feel you are travelling the world while being in Costa Rica. The family stay provides a great opportunity to get to know Costa Rican culture.
The school in Heredia is very conducive to learning. It has a beautiful interior courtyard which provides an ideal setting to meet other students while enjoying good coffee during breaks. As for the beach campus, it is absolutely amazing. Located in Samara, a small typical beach village, you will quickly feel at home and have countless opportunities to meet local new friends to practice your Spanish.
Don't miss the cooking and dancing classes organized by the school: another chance to meet new friends, learn about the local culture and practice your Spanish. Make sure you keep some extra days to visit the amazing natural sites this small country has to offer: national parks, beautiful beaches, coffee plantations and spectacular volcanoes. Go and see for yourself why Costa Rica is also called the Switzerland of Central America."

Maria S. – Pinkerton Academy student
Pinkerton Academy High School Group
This trip completely changed my life for the better. The experience was unbelievable and so much more than I ever could have asked for. The memories I made will travel with me for my entire life and I am so thankful.
The people were amazing, the chaperones were amazing, the trip was amazing. I cannot say one bad thing, it was worth every penny. Not only did my Spanish improve but my ability to speak up in situations did too. I became so comfortable in talking to complete strangers through the home stay and the intercambio. I also learned about the history of Costa Rica and a little bit about Peru because my teacher was from there. It was such a culturally enriching trip and I would not trade one second of it for the world. Not only was it educational in an interesting way but it was fun. Those two weeks were some of the happiest times of my life. Everything was just pure fun. It truly was a highlight of my life.
2016 Pinkerton Academy group, USA, at our HEREDIA CITY CAMPUS
USA

Francois Gauthier
…Una vez mas mi estancia a la escuela de Samara fue tanto agradable. La gente de la escuela (administración, profesores, personas por el mantenimiento) son realmente simpáticos. Fue para me muy agradable de conocer otra duena de la escuela !
Si Dios quiere, voy a regresar en Samara el ano próximo y espero que podemos vernos de nuevo ! Feedback from January 2020
"¡Buenas tardes amigas! Durante los tres últimos anos efectué reserva para Intercultural a este periodo del ano. Este año sera un poco diferente y desgraciadamente, no iré en enero a Samara…. Es un poco triste para me pero es la vida ! Otra vez indedudablamente !! Sé que voy a pensar a toto la familia de Intercultural en enero !! Habiendo pertenecido a Intercultural de Samara durante tres años consecutivos, me gustaría usted aporta mis comentarios y sugerencias que conciernen al conjunto de mis estancias.
La acogida del conjunto del personal durante todas mis estancias, la calidad de los cursos, la competencia de los profesores, todo es verdaderamente impecable y muy profesional. Discutiendo con otros estudiantes que siguieron cursos en otras escuelas de Costa Rica o en otros paises, comprobé que Intercultural de Samara verdaderamente era la escuela la más apreciada por la mayoría de los estudiantes.
El "homestay" fue para mí a cada una de mis visitas una experiencia muy agradable y verdaderamente estuve muy satisfecho. Las actividades propuestas durante los fines de semana y durante semanas son muy adecuadas y pertinentes…
Hasta la próxima mi amigas et salud à todo la familia de Intercultura!"
Francois Gautier (Paquito) – Repeat yearly student – 2013 to 2023
QC, Canada
REVIEWS ON IMPORTANT THIRD-PARTY PLATFORMS
Intercultura Costa Rica has one Trip Advisor profile for each campus location: Heredia City and Samara Beach. If you studied Spanish with us and want to leave a review please make sure to choose the right campus profile.
PRESS & AFFILIATIONS
We have received students from, worked with and been endorsed by the following entities: