STUDENT HOUSING AT OUR SÁMARA BEACH CAMPUS
Located just behind our beachfront campus, the student residence offers a variety of lodging options to suit your needs.
The main house features five private bedrooms with two to five beds each, all equipped with private bathrooms. Guests can also enjoy a fully-equipped kitchen and a spacious social area with deck chairs, hammocks, and communal dining tables. For a more hostel-style experience, there is an apartment with two shared rooms, each with 2-3 beds, a shared kitchen, outdoor seating, and a bathroom. Additionally, there are two new 2-bedroom apartments at the front of the property, each with a private kitchen, one bathroom, and a terrace. The residence also boasts a large, grassy, fenced-in yard, an outdoor shower, and secure parking.
Five private bedrooms with two to five beds each
One apartment with two shared rooms
Fully equipped
Private bathrooms
Shared kitchen
Air conditioning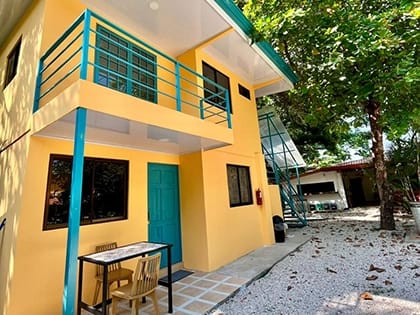 Two bedrooms
One bathroom
Kitchen
Fully equipped
Air conditioning
Private terrace/ balcony
OUR LODGING RENTAL CONDITIONS:
There is a $200 security deposit. It will be refunded at the end of your stay, pending inspection of the room.
Costa Rican law and insurance regulations prohibit tobacco smoking anywhere on the premises of the rooms, including the terrace, school, garage, etc.
Prices are based on number of occupants. If you rent a room you therefore must inform school how many people will be staying there and identify each one. If you wish to add occupants, you must request prior permission from school.
The residence is for residence guests ONLY. You may not invite other students, locals or friends back to the residence. This is for both, security, and because this is a space shared with other guests. You must also be prepared to respect quiet time from 10pm to 7am. This means no loud parties in the social area or rooms, as well as no non-paying guests on the residence grounds.
The house is furnished and in good condition. If there is something missing or damaged at the beginning of your contract please let the school's administration know.
To help keep costs low and protect the environment, we ask you to turn off A/C, lights and fans when not in use.
LIMITATION OF OUR PRIVATE APARTMENTS:
These apartments are only rented weekly, from Sat to Sat or Sun to Sun.

This lodging option has very limited availability. We will let you know if the chosen lodging type is available for the requested dates.
INTERESTED IN STAYING WITH A LOCAL FAMILY?
If you are looking for more immersion opportunities throughout your stay, choose homestay lodging with a local family.