BEST SPANISH IMMERSION PROGRAMS FOR ADULTS
Learn Spanish in Costa Rica with our year-round and accredited courses. With over 28 years of experience.
Enjoy dynamic and interactive Spanish immersion courses for adults with our native and qualified Spanish teachers. Choose between group courses, private lessons or a combination of both. JUMP TO OUR PRICES!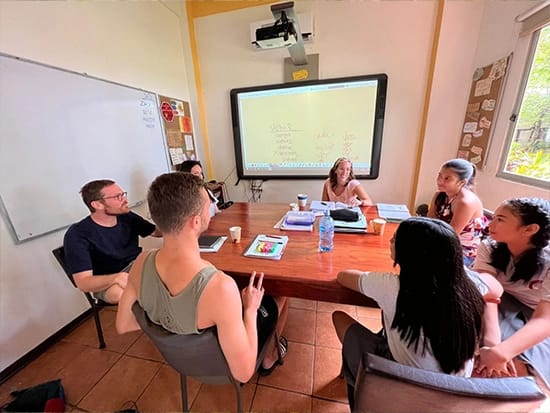 LEARN MORE ABOUT THE DIFFERENT COURSES
Dynamic and fun Spanish immersion courses
Two different locations
Spanish certificate programs :

Twelve different levels from A1 to C1 within the Common European Framework of Reference for Language Learning,
plus an additional six levels for high-advanced C1+ students

Appropriate for all learning styles and ages
A wide variety of authentic learning activities involved
Syllabus and framework for class sessions are tailored to the needs of students in an immersion program
Integration of cultural activities into the learning process
ANY QUESTIONS? SEND US A MESSAGE!
MORE DETAILS AND FAQs ABOUT OUR ADULT SPANISH IMMERSION PROGRAM