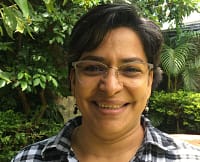 Annia Delgado
Homestay & Volunteer Coordinator (Heredia)
Annia Delgado is a native of the Guanacaste region in Costa Rica. She began working with Intercultura in 2006 as a receptionist and student services, before moving up to Coordinate the Homestay and Volunteer Programs. She lived in the US for several years, which has helped her to get a better understanding of and desire to interact with people from different cultures. She has extensive experience in the field of customer service and is recognized for her gentle and patient nature. She helps and guides students and volunteers throughout their stay at Intercultura, in their projects and in their host families. She speaks fluent English and takes French lessons. In her free time she enjoys spending time with family and friends and helping her son with his own language studies!
"I have been very impressed with how organized and approachable the staff is. Thank you so much for all your work I appreciate it very much. You are doing a wonderful job." – Barbara
"I am absolutely satisfied to choose this school" – Letizia Libi.