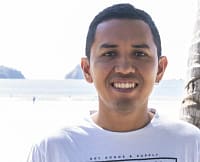 Byron Pérez Gonzalez, Lic.
Spanish Teacher (Sámara)
Byron is a native of Guanacaste where he grew up in his beloved Hojancha, a small town close to Sámara. He obtained his BA in Education with emphasis in second language acquisition from the Universidad Nacional of Nicoya. He holds a double major in ecological tourism, has completed post-graduate studies in Educational Leadership, and has taken part in numerous lectures and training seminars on second language acquisition. After graduating, he worked as an assistant professor at the Universidad National, and then joined the Intercultura staff in Sámara in 2012. He speaks fluent English and has a particular interest in the field of second language acquisition. He is currently taking German classes, and is an enthusiast of community-based development programs, where he enjoys his free time volunteering and helping others. In addition, he loves reading, drawing, running, and he enjoys speaking with people from different cultures.
"An effective and entertaining teacher! He kept everyone engaged without ever embarrassing anyone or making the class boring!!" – Steve Sarnecki, 2023
"Byron was clear and easy to understand, and he explained things well." – Barbara 2023
"Byron conducted a fun class where we felt free to discuss items personal to us and to interact with each other.  He offered corrections when helpful for learning and is very expressive to help comprehension." – Peter Kocubinski, 2019
"I'm always so impressed by Byron's command of technology in his classroom, and by his error correction when he gives precise and clear mini grammar explanations. Amazing teacher" – Charissa Palank, 2018
"I never knew the rules to why Spanish did the things they did. Byron helped clarify those misunderstandings and now it all makes sense. Thank you!" – Julia Cervantes, 2015