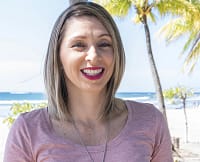 Nelsy Rodríguez, Lic.
Spanish Coordinator & Teacher (Sámara)
Nelsy is a native of Guanacaste, Costa Rica. She received her Bachelor's degree in Spanish and Education, followed by her graduate degree (Licenciatura), from the University of San José. Nelsy has worked as a high school Spanish teacher in the area, and in 2007 she joined Intercultura Sámara as a full time Spanish professor, where she greatly enjoys teaching and sharing the many other cultures her students represent. She has a passion for traditional dance and has performed with an international folkloric dance group. In her free time she enjoys the beach, biking and spending time with her friends and family.
"Nelsy was so good at pushing us out of our comfort zones and helping us grow, while also encouraging us. This week was the most challenging, but I can also see the most growth in myself. I love that she allowed time to let us have casual conversations, not always about class material, but always in Spanish. My conversation skills are miles ahead of where they were because of that. I wish I could have her for my future weeks. She excels in what she does." – Allison, 2023
"Nelsy is one of the best profresoras i have ever had in class. I had no clue how we would only speak Spanish as level one, but we did and we had so much fun. Nelsy is excellent!!!!!" – Jessica Vacketta, 2019
"Private lessons with Nesly have been fantastic, she has been an incredibly patient, supportive, understanding and helpful teacher, I am very grateful!!" – Clara Rawlings, 2015