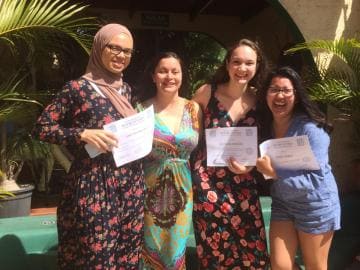 The Importance of the Acquisition of a Language in Context
"Languages are the pedigrees of nations"
Samuel Johnson (1709-1784)
Click here to read the article in Spanish!
Language is, in addition to a form of communication, a way of understanding the everyday practices of the speakers, an ideological expression that hides or reveals our way of decoding our environment, the way we live. To learn a new language is, undeniably, to be born again, to learn everything all over again; it is to possess a new life. In this context, the immersion processes are one of the most organic ways to obtain cultural understanding of the language.
In programs responsible for immersion learning, the communicative skills (speaking, reading, reading and listening) are traversed by a fifth and no less important skill: culture. The evident cultural manifestations – like art – are more and better understood through the language and in other more abstract, and more profound, cultural expressions. As with moral values ​​- language is essential to make them more concrete, performative and understandable.
It is vitally important that the approach to the target language is mediated by the factors that are intrinsic to culture, society, ideology and human practices. These are some of the contexts that position Costa Rica as a perfect destination for immersion learning processes. Costa Rica is a country that, due to its historical processes, has differentiated itself from other Latin American countries, making it a great place to experience a safe, dynamic, interesting and ultimately effective and unforgettable immersion process. The historical contexts of this small piece of the tropics make many consider Costa Rica the most solid democracy in Latin America. In addition, a country that, since 1948 (when the army was abolished), has not invested money or energy in military institutions says a lot to the world.
For those interested in social movements, education, public health and human rights policies, Costa Rica can thus also be seen a destination that encourages not only learning Spanish, but also learning about the progress and challenges facing these issues; its clear advantages and its concrete problems.
Nature is another component that captivates visitors and locals. It is always impressive to think of the ratio between the size of the country and quantity of species that coexist in "tiquicia". With a land mass of only 51,100 km², the Republic of Costa Rica is home to 52 species of hummingbirds, 1251 varieties of butterflies, 148 types of frogs, 70 specimens of lizards, 250 species and five of the world's seven marine turtles nest in the beaches of Costa Rica. In addition, 26% of Costa Rican territory is protected in environmental conservation programs.
Costa Rica´s wonderful environment covers different types of territories that make each corner of the country special: an irregular Pacific coast of 1016 kilometers with more than 100 beaches and 212 kilometers of Caribbean coast; a chain of mountains that crosses the country from the northwest to the southeast and houses 112 volcanoes, as well as sheltering the geographical areas that protect the main urban centers of the country.
History, politics and nature are combined with human resources. Around the country you will find welcoming smiles ready to share their knowledge and ideas that have been learned via an empirical, sometimes mythical and often superstitious, but always interesting, worldview.
The learning process in Intercultura is determined primarily by human contact with Spanish speakers: native teachers trained in grammatical, linguistic, social, political and cultural issues make the classes flow in contextualized explanations that develop an understanding proportional to students´ language level and communicative competencies.
In addition, the homestay family program allows the student to be positively exposed to the different cultural expressions that thrive individually in each of the selected houses, giving students the comfort of an extended family, a new family in this new cultural experience. In this way, integrating Spanish into your list of skills can give you the option of understanding not only words, but intentions; to understand the social dynamic of Costa Ricans and the cultural dimensions of Latin America in general.
Latin America is undoubtedly a region of the American continent that involves large and complex processes of recognition, identity processes, and political crises, all of which makes this territory, the product of colonization, a universe of cultural exploration.
Routines, foods, personal relationships, the climate, understanding of political contexts, cinema, music, architecture, entertainment customs, driving etiquette, educational values, peace and war, hygiene habits, body perception, aesthetic criteria, folklore and values: These and many other aspects are in the repertoire that an immersion program can show you. The depth depends on the individual.
As Bronislaw Malinowski said, 'All cultures, in one way or another, reflect common human needs' and immersion allows us to have a respectful and integrated approach to that dimension. In this context, language is the bridge to have access to culture, a bridge that is strong, stable and capable of sustaining the semantic twists that cannot be learned in books and dictionaries.
written by Jesús Cárdenas, translated into English by Lindsay LaVelle