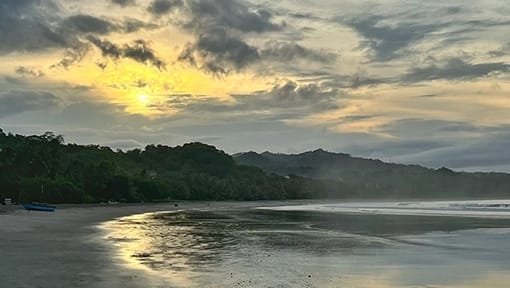 Discover the Hidden Gem: Why Costa Rica's Rainy Season is the Perfect Time to Learn Spanish and to Experience the Country's Beauty
Are you ready to embark on a language learning adventure that will captivate your senses and immerse you in the enchanting atmosphere of Costa Rica?
In this blog post you will learn why the rainy season in Costa Rica provides the perfect backdrop for mastering Spanish while experiencing all the beauty this vibrant country has to offer. 
The rainy season in Costa Rica, also called the green season, lasts from May to November on the Pacific coast, where our Spanish beach school is located (Guanacaste province). The low season or off season in Costa Rica however kicks in mid/late August and lasts until November.
So Why Learn Spanish in Costa Rica during Low Season (Rainy Season)?
It's the time when tourism is not at its peak as it's characterized by higher chances of rainfall, but great deals can be found. Many lodging options, language schools, surf schools, and tour operators offer discounts and special deals to attract visitors.
Learning Spanish in Costa Rica during the green season can offer a unique and rewarding experience for several reasons.


6 Specific Advantages of Learning Spanish in Costa Rica during Low Season
1. Cost Savings and Smaller Class Sizes at Language Schools:
Is Learning Spanish cheaper during green season month

s in Costa Rica?
The chances of seasonal discounts on language courses are definitely higher in the off-season months! Green season is considered the off-peak tourist season in Costa Rica, meaning there are fewer visitors. As a result, not only accommodations, transportation, but also language courses might be more affordable compared to the high tourist season. You can potentially get more value for your money.
More Personal Attention from Spanish Teachers
Language schools and programs in Costa Rica surely have smaller class sizes during the green season, allowing for more personalized attention from Spanish instructors. This can greatly enhance your learning experience and speed up your language acquisition.
At Intercultura Costa Rica, green season means not only smaller Spanish classes but also great deals on our Spanish immersion courses.


If you want to save some money on your Spanish immersion program in Costa Rica and enjoy more personal attention, low season is definitely the best time for it.


2. More Cultural Immersion and Local Events
Cultural Immersion
With fewer tourists around, you'll have a better opportunity to interact with locals and practice your Spanish in authentic settings. Engaging with native speakers in real-life situations can significantly improve your language skills.
Cultural Events
The green season often brings local festivals and events that provide insight into Costa Rican traditions and customs. Participating in these events can give you a deeper understanding of the culture and the language.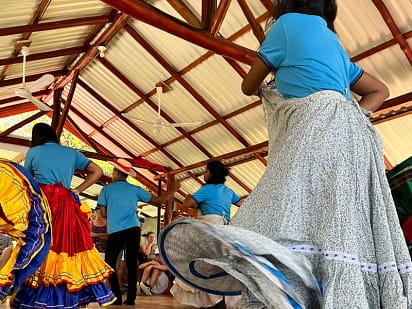 3. Natural Beauty and Wildlife Watching
The green season is called so for a reason—lush landscapes, blooming flora, and flowing waterfalls create breathtaking scenery. This can add to your overall experience and make your time in Costa Rica even more memorable.
Especially the Guanacaste province, where our beachfront Spanish school is located, looks so much more alive and colorful than it does in dry season (Costa Rican summer). During green season in Costa Rica everything greens up nicely, rivers run again, little waterfalls start to appear and the dry-forests turn green and lush.
While certain wildlife might be a bit more challenging to spot during heavy rain, there are amazing opportunities to see unique creatures such as sea turtle or whales.
Explore Rainforests
The rainforests are at their most vibrant and lush during the rainy season. Consider visiting national parks like Manuel Antonio, Corcovado, or Tortuguero, where you can experience incredible biodiversity, lush vegetation, and a chance to see animals like monkeys, sloths, and various bird species.
Waterfall Chasing
In the rainy season, the waterfalls are even more impressive, as the rivers and streams swell with rainwater. Not only popular waterfalls like La Fortuna waterfall, Nauyaca waterfalls and Rio Celeste waterfall, which have water all year round, but also smaller, seasonal waterfalls on the beach, cliffs or off-the beaten-track roads will impress you. Take a break and refresh yourself under a roadside waterfall!
Wildlife Watching
Whale Watching Season
This deserves a stand alone part. Whale watching in Costa Rica during the months of August to November is one of the most mesmerizing and unforgettable nature experience. Samara Beach, where our beachfront Spanish school is located, offers a fantastic opportunity to witness these majestic creatures in their natural habitat.
Samara Beach's coastal location makes it an ideal spot for whale watching tours. Tour operators are well-versed in the local marine environment and the patterns of whale migration, increasing the likelihood of encountering these magnificent animals during your boat trips.
Being able to combine this unique natural encounter with language learning at a beachfront Spanish school is an exceptional opportunity. Students can immerse themselves in both language and nature, creating lasting memories and enhancing their overall experience in Costa Rica.
Sea Turtle Season (Arrivadas)
Sea turtle watching in Costa Rica is a popular and exciting activity, especially during the rainy season when different species of sea turtles come ashore to nest.
To witness sea turtle nesting or hatching, it's recommended to join guided tours offered by authorized organizations and local tour operators. These tours are led by trained guides who can provide valuable information about the turtles and ensure that viewing does not disturb their natural behaviors.
At our Spanish school in Sámara Beach, we organize turtle watching excursions for Spanish students with trusted local tour operators. Otherwise, travelers can take advantage of the wide selection of local tour operators in Sámara or other beach towns.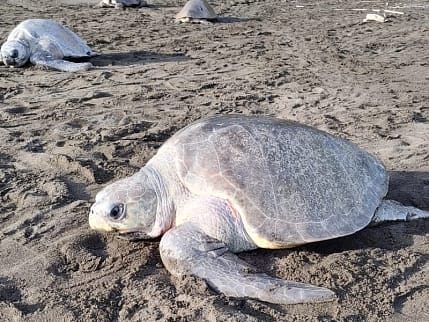 4. Less Crowded Attractions, Accommodations, Beaches, and Surf Spots
Less Crowds – More Personalized Service
While some popular tourist attractions might be less accessible due to heavy rains, you'll have the chance to explore less crowded spots that are equally beautiful. This can provide a more tranquil and authentic experience of Costa Rican culture and nature.
With fewer travelers around, you might receive more personalized attention and service from lodging staff, tour guides, and instructors. This can enhance your overall experience and provide a more relaxed atmosphere.
Quieter Beaches and Less Surfers
While some tourists might avoid traveling during the rainy season, you can take advantage of quieter beaches and attractions. This allows for a more serene and authentic experience as you explore the natural beauty and local culture.
If you're a surfer, you'll likely encounter fewer crowds in the water during the green season. This means more waves for you to catch and a more relaxed surfing experience.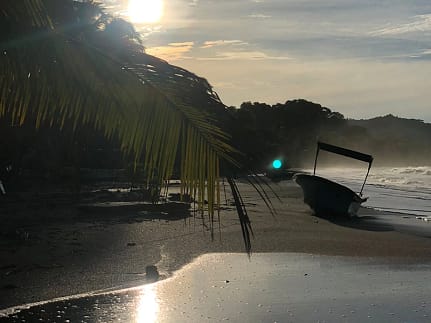 5. Great Deals and Discounts at the Beaches and Other Places in Costa Rica
There's an Abundance of Great Deals – Hotels and Hostels, Tours, Surf Lessons and Other Activities
Fewer tourists does not only mean more tranquility, quieter beaches and less waiting, but also more availability in everything and therefore you can take advantage of significant rate reductions, attractive package deals, and any last-minute promotions.
Lodging Discounts:
Hotels, resorts, and hostels often lower their prices during the green season to entice travelers. You might find significant discounts on room rates, making your accommodation more affordable.
Surf Schools:
Costa Rica is a popular destination for surfing, and many surf schools are located along the coastline. During the green season, some surf schools might offer discounted rates for lessons and rental equipment to attract surf enthusiasts. The larger waves that come with the rainy season can also be more appealing to experienced surfers.
Some Tours are Less Expensive and More Fun:
Tour operators that offer activities like rainforest hikes, wildlife tours, ziplining, and more might have special deals during this time. With fewer tourists, you might have a better chance of booking tours at a lower cost or with added perks.
Since rivers are high and everything is so green, river rafting and zip-line canopy tours, ATV tours or horseback riding are so much more beautiful and adventure-filled, with a high possibility of catching sight of a breathtaking rainbow.

6. Adaptability and Personal Growth
Learning a language in different environments can improve your adaptability and communication skills. Navigating day-to-day activities during the rainy season will require more interaction and problem-solving, which can be beneficial for language acquisition.
The weather might be less predictable, some outdoor activities could be limited, and certain areas might be more difficult to access due to road conditions. Be prepared for rain, humidity, and potential changes in your plans.
Embracing those challenges of the green season, such as weather-related logistics, can foster personal growth and resilience. Overcoming these challenges can be a rewarding aspect of your language learning journey.


How often does it rain during rainy season in Costa Rica?
Rainy season patterns can vary from year to year due to climate variability, and it's best to consult up-to-date and reliable sources for the most current information.
In Playa Samara and the Guanacaste region the rainy season typically runs from May to November, with quite some variations from year to year. Rainfall can be heavy, especially in the afternoons and evenings, but at the same time there are long sunny periods throughout several days. Be prepared for occasional rain and changes in weather conditions.
Before making any decisions, research thoroughly, and consider your personal preferences, goals, and travel constraints. You can always consult with language schools, travel advisories, and locals to get a better understanding of what to expect during the green season in Costa Rica for the current year.

What to do in Costa Rica on rainy days?
If you are asking yourself what are some good and worthwhile activities to do when the weather is the opposite of being sun-kissed, here are 6 awesome recommendations for a rainy day: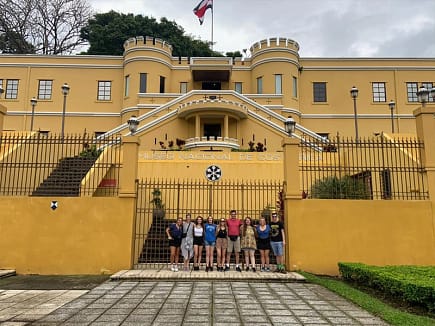 Hot Springs: Costa Rica is known for its geothermal activity, which means there are many natural hot springs scattered around the country. Relaxing in a warm, natural pool surrounded by rainforest can be particularly pleasant during rainy weather.


Coffee and Chocolate Tours: Take advantage of the rain to explore indoor activities. Costa Rica is famous for its coffee and chocolate production. Many regions offer tours where you can learn about the cultivation and processing of these delicious treats.


Visit Museums and Galleries: San José, the capital city, offers a range of museums, galleries, and cultural attractions. This is a great way to spend a rainy day while gaining insights into the country's history and art. For our Spanish students studying at our Heredia City Campus, located only 6 km from San José, this is one of the most popular and convenient activities.


Indulge in Spa Treatments: If your budget allows, many resorts and lodges in Costa Rica offer spa treatments that can help you unwind and relax during rainy days.


Cooking Classes and Food Tours: Explore Costa Rican cuisine through cooking classes and food tours. This can be a delicious way to spend a rainy day indoors.


Take it easy and rewind with a minimum of fuss: Grab a good book and a hammock to settle in! (maybe even take a little nap, too.) Or go to nearby local coffee shop for a sweet treat, or fresh cup of café, and observe your surroundings!


How about learning some rain vocabulary in Spanish?
The Costa Ricans (Ticos) are excited when the rainy season in Costa Rica arrives, as it brings life back to Costa Rica's nature after the dry season and, plus, learning rain vocabulary is fun. We love the green season, and here are some fun words that are synonymous to rain and/or precipitation.
Typical expressions for different types of RAIN in Costa Rica:
| | | |
| --- | --- | --- |
| LIGHT RAIN | RAIN | STRONG RAIN |
| Pelo de gato (cat hair) | Lluvia (rain) | Aguacero (down pour) |
| Está garubando (It's sprinkling) | Aguanieve en áreas montañosas (kind of like sleet, in really mountainous areas) | Llover a cántaros (raining buckets) |
| Nacen los venados (misty & mystical rain in which baby deer are born) | Cayendo sapos (it's raining frogs OR "cats & dogs!") | Cielo Roto (The sky is broken) |
| Llovizna (mist) | Chorro (jet or stream of water) | Baldazo (DOWN POUR) |
| Chubasco (rain shower) | Chaparrada (a strong rain that only lasts a few minutes) | Diluvio (copious amounts of rain that often cause flooding) |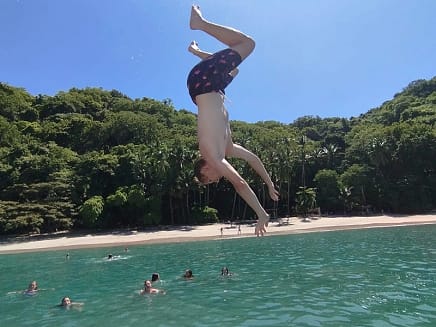 Are you ready to dive into the rainy season, mastering your Spanish while immersing in Costa Rica's enchanting atmosphere?
Reach out to us and we are happy to help you with planning our travel language adventure plans.


We offer Spanish immersion programs for all ages and Spanish levels year-round at our both school locations, Heredia city and Playa Sámara.