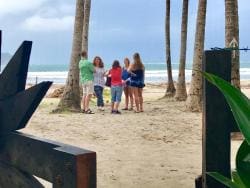 What is a family Spanish immersion vacation trip exactly?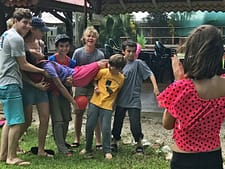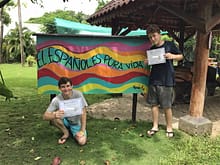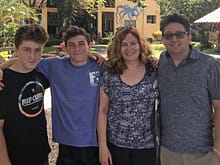 …this is a question we get asked a lot.
Basically it means that you will be immersed in the Spanish language and culture, but instead of being in a standard classroom at a high school or university, you will enjoy classes
GREEN SEASON DEAL: $295 OFF – BOOK NOW!
with an ocean view in our privately run, beachfront language institute in Sámara Beach, and/or

at our beautiful historic campus in the university town of Heredia.
Instead of doing grammar drills, you´ll be practicing real life Spanish conversations, and your kids will be doing the same, sometimes out on the beach or in our tropical gardens, or playing games with their classmates (all in Spanish), or seeing how the local guys open a coconut so you can drink the juice inside, or going to buy fruit at the marketplace, or one of the many other dynamic, fun activities that keep the kids entertained while simultaneously learning the language.
Your kids will also, we hope, come to understand by living the experience that no one country is better than another, just different, and that every difference they encounter while here will enrich their world view and give them a little added understanding of how diverse cultures can complement and enhance each other, as long as there is mutual understanding and respect on each side.
Family Spanish vacation trip: What´s best for my children? We have never done that before, what should we expect?
If you really want the full cultural experience, and if you and your kids are flexible enough to adapt to a different way of life without too much complaint, then go for a homestay with a Costa Rican family.
You will have to really use the Spanish you learn in class,
you´ll learn about local culture as well as the language,
you´ll meet new friends you may keep for life, and
you will open your mind in whole new ways.
But, if dealing with
ants,
noisy monkeys or dogs barking at 5am,
fans instead of AC,
no Wifi in your bedroom,
rice and beans every day,
and a generally noisy social life
isn´t for you, then you may prefer to start at a hotel or house rental and see how it goes before jumping feet first into the whole immersion experience.
Either way, we encourage you to use your Spanish as much as you can around town and on campus, during Latin dance, film night, arts and crafts, cooking, yoga and zumba classes—these are all free on campus after your language classes and are a great way to keep busy while speaking the language.
A few other important things to consider:
1. Kids need to understand that they are in an all-ages environment and must behave appropriately – ie. Loud, boisterous behaviour and games are better done out on the beach or in a playground.
2. While on campus, we expect kids to respect the other students, their teachers, the facilities, to arrive to class on time and with assignments completed, and to not drink coffee!
3. Parents need to understand that we do not offer the 24/7 supervision of a traditional camp: parents are expected to keep their kids behaving as expected, and to pay attention to their conduct on campus and their whereabouts after class.
4. If a baby sitter is needed, we are happy to put parents in touch with trusted local nannies, but this does involve an extra cost, usually around $6/7 per hour.
All in all, this is the opportunity to have a life-changing experience for you and your kids at a relatively low cost. See what past participants have to say and decide for yourself!