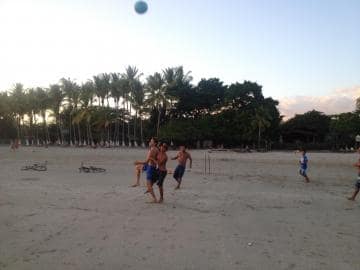 Your cost breakdown of traveling in Costa Rica
We found this following article to be very useful as many students ask us how much is the cost of traveling in Costa Rica. It´s not an easy question and it all depends what you are looking for. The article can be used as a guide for your upcoming trip to Costa Rica. In order to give you a quick overview of each category we summarized the most important facts for you.
Article: http://mytanfeet.com/expenses-wrap-up/cost-of-traveling-in-costa-rica/
Cost of Traveling in Costa Rica—SUMMARY
Flying: In terms of flights to Costa Rica, like every other situation, ticket prices vary and often depend on the time of year. Luckily, very recently there have been a lot more flights added to Costa Rica. Because of these recent additions and increase in options, flights are becoming cheaper.
Tips: -Use websites such as Kayak, Momondo, and Skyscanner
-Flying into San Jose is often cheaper
– Sign up for price alert
Accommodation: As Costa Rica is very touristic, there are many options. Throughout the country there are many hostels and hotels along with unique resorts (all inclusive), treehouses, eco-friendly lodges, campsites, yoga retreats and surf camps. Accommodations in CR also vary a lot by price ranging from $15 to $500 a night. There are many options that can fit your financial budget.
Average Prices: Hostel: dorm ($10-15) or private room ($25)
Basic Hotel: $35-75
Mid-Range Hotel: $100-175
High End Hotel: $200 and up
All Inclusive Resorts: $250 and up
1 week surf camp: $800-1500
Tips: -travel during the off/rainy season (May-Nov)
– September and October are the cheapest months to travel
– Like and be active on Facebook and/or other social media
– Be open to trying alternative accommodations (AirBnB, CouchSurfing)
– Use sites such as Hotels.com, Booking.com, Hotelscombined
Transportation: There are many ways to get around CR including the following:
Public Transportation- It may take a bit longer but it is the cheapest, most authentic way to travel the country.
Taxis- More ideal for shorter trips. It is important to use one´s with a meter or determine the price before you begin your journey.
Shuttle: A shuttle can cost anywhere from $50-200. It often depends on the distance and the number of passengers.
Car rental: prices are reasonable depending on where you go and how much research.
Flying: Nature Air and Sansa Air are the two airlines in CR that fly to 13 different destinations. Flights are typically $100-250
Tours: Ziplining-$55-85 (many different options), White Water Rafting- $80-120, Sunset Sailing-$70-95 (half day, very inclusive), Half Day Sport Fishing- $500 (includes equiptment), Two Tank Dive- $115, Combo Adventure Tour- $100-120 (includes multiple tours), National Park Entrance Fee- $8-16 for foreigners (Locals pay $2), Surf Lesson-$40-60 (includes board rental), Horse Riding-$60-90 (depending on length and location).
Tips: -Many of these prices are lowered in the off season
– Bargaining is possible
-Book on your own, not through a hotel
Food: Food prices vary across the country. Traditionally lunch can be bought for $5-10.
Tips: – Avoid eating in touristy places
-Look for bakeries (panaderias)
– Ask the locals! (usually a good tip for most things!!!)
– Drink the tap water (it is very safe!)
Souvenirs: It is possible to find souveniers everywhere but they are typically not cheap. A good way to save money is to bargain or try alternative stores, for example, the supermarket.
**Tipping is not mandatory here, but if you feel obliged, a standard percentage is %10