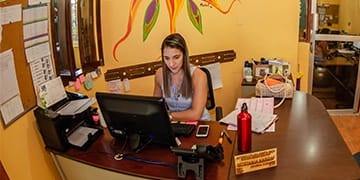 Estefanía's Success Story at Intercultura
Who is Estefanía?
Estefanía, known affectionately as Stefi, began working at Intercultura 14 years ago right after high school, when she had just turned 18. From the very beginning, Stefi was a favorite of colleagues and students alike, for her kind and patient disposition, and her willingness to always help anyone in need.
Over the years, while working full time and being a single mother to boot, Stefi went to college and graduated with a law degree from the Universidad Latina. She has passed the bar and finds time to practice law in her free time, as well as spending time with her son Mattías, and the rest of her extended family in the Sámara area.
Stefi loves to exercise, do yoga, go to the beach, and socialize with locals and people from around the work that she meets at school. She also gives workshops in areas such as Human Resource Management, Customer Service, and Administrative Development. Her considerate and empathetic communication style has taught all of us at Intercultura how to be better colleagues and more effective, positive communicators. We hope she stays with us for many years to come; Intercultura would not be the same without her.
Scroll down to read more about Estefanía's story at Intercultura from her perspective.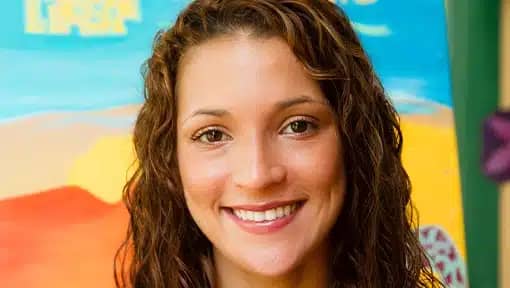 We asked Estefania some questions to get deeper insights into her story from her point of view.
What was it like when you first started at Intercultura, and did you imagine you would still be here 14 years later?
When I started at Intercultura I was very young; I was 18 years old, and I had no idea what I dreamed and hoped for my future. I looked for a job at Intercultura because I had a young son and I needed a job. It was one of the greatest challenges, with high demands, but above all, being a young mother and starting a professional life.
Over the years Intercultura became a safe place that allowed me to grow professionally but even more as a human being. I developed a high level of knowledge about cultures, lifestyles, languages, and the world in general. Also, I gained a lot of experience and was able to grow within the company in an integral way. I was able to fulfill many dreams and goals, working full-time for a long time. On the weekends I studied until I graduated with a law degree. Currently, I am an incorporated lawyer.
What were some of the challenges of learning about the school and how to do the job?
One of the biggest challenges was learning how to interact with people from different parts of the world. That includes understanding their cultures and lifestyles and learning how to make these people feel happy with what we do. At the same time, it was a challenge to manage a large multicultural team where there were people who were older than me, having to supervise them and be their leader. The first two years as a manager were not an easy task, but I dedicated myself to getting to know the needs of the team as well as the company and creating my own way of leading. Now it is what I love to do the most – to see the team stable and the company grow.
Do you have any favorite memories of your time here?
I have many special memories because it has been 14 years, and many moments and stories to tell and remember. I have made friends for life in different parts of the world. Also, have I lost friends who are no longer here with us but who were an important part of my life? I have had very special professional experiences as well.
But I can say that one of my favorite moments (although not the most pleasant) was surviving the pandemic by sustaining a team and a formal group company. To see how among all the collaborators we sustained ourselves, we created emergency plans and ideas that gave us the possibility to transform our functions. I felt the fruit of the work of many years, to see everyone full of faith, tranquility, and trust in their leaders but above all in what we do as a team. For me, it was a moment of happiness hidden within the chaos.
What kind of friendships have you made here with the students that came to study from other countries? Do you ever go visit them or vice versa?
I can say that I now have friends in many parts of the world, and some have become part of my family. There are special people who have brought a lot of culture and background to my life and to that of my family. I have met people who have impacted my life in a positive way, strong women and fighters, like "Jackie from Switzerland" who is someone I admire very much and I wish her the best in the world. At the same time, my bosses who are always in their own way have been mentors in my path.
Of course, I go visit them! I have traveled several times and am welcomed with open doors in most places I want to go.
What would you say are the pros and cons of studying Spanish at the beach?
I can say that one of the challenges for our students is to complete a full week (haha) in an environment that is so open and can be spread out due to the variety of activities and recreation that Sámara Beach offers. But at the same time, it is so beautiful and relaxed that the students always manage to settle in and accomplish their goals most of the time.
And the challenge for the staff is to keep all the students focused and dynamic, as many of them tend to have an active social life in the evenings, but that becomes the cultural part of the experience.
Do you have any funny moments with students that you can recall?
I have many very nice ones, from office banter to weekend trips together to Latin dance nights. But something I really enjoy is the cultural celebrations where the students are 100% involved and enjoy themselves with such authenticity that it becomes a whole lot of fun.
I have many stories to tell, memories that, when they come back, fill my heart with joy. Intercultura is more than a job, it is a small family, full of growth, harmony, respect, and commitment. Thank you for everything!
Pura Vida, Estefanía
You may also be interested in reading the founding story and thus the success stories of Laura Ellington and Adelita Jimenez, the founders and active directors of the school to this day.