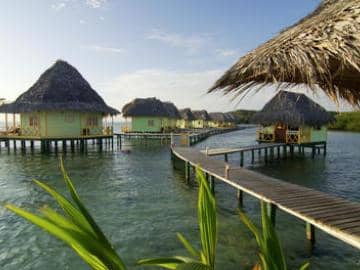 Border Crossing: A Spanish Student's Adventure
Written by Katie Horch
As a foreigner studying Spanish in Costa Rica, it is my responsibility to leave this beautiful country every 90 days to renew my visa. I understand that there are many others out there in similar positions, and although it may seem a little ridiculous to leave every 90 days, who doesn't enjoy a short and sweet vacation every three months?
I recently escaped Costa Rica and my Spanish classes for a Visa-Run. I chose Bocas Del Toro, Panamá based on the outrageous number of friends urging me to visit to the beautiful paradise-like island.
The process of getting into Panamá via the Sixaola border is a little bit complicated, but worth it. From San José you will take a bus from the Caribeños bus station (it is best to leave at the crack of dawn at 6 am to get across the border before it closes). This bus ride lasts around 5.5 hours. The chofer (or driver) drops you off at the bus station in Sixaola. Then, you'll take a short walk to the immigration offices. At the immigration office you might be asked a few questions about why you are going into Panamá and where you are visiting. You fill out a small immigration paper with your personal information and then receive an exit stamp. Next, you will walk across an ancient bridge (perfect for pictures!) to get an entry stamp into Panamá—this will require either a plane ticket that shows you will be leaving the country within 180 days or a simple bus ticket back to Costa Rica that you can use to return to San Jose.
Once you've proved that you won't overstay your visit, you will pay a $3.00 tax for a small stamp as well as obtain your entry stamp into the country. Voila! Your next task it to get a taxi, bus, or use one of the many vans to get to the boat launch. The special vans cost $10.00 per person to take you to the dock where you jump in a water taxi to complete your journey and touchdown in Bocas del Toro.
Once in Bocas, find your hotel, relax for a bit, and then explore. I recommend you take the day to do some shopping at the many little stores lining the streets and then grab some dinner. It's completely up to you and your group how you would like to spend your Visa-Run weekend. On my trip, we took a tour to Red Frog Beach, on the Island of Bastimentos, and spotted a couple dolphins on the way along and a single sloth. The next day we hired a taxi and went to Star Fish Beach and then to visit a holy cave that was filled with alien-looking crickets!
Overall my experience in Bocas del Toro was good! It is a small island filled with lots of tasty restaurants, a hearty nightlife, and many beautiful beaches. The weather was not ideal when I visited, (Panamá was just starting to enter its winter season), however I still managed to get a good sense of how beautiful Bocas del Toro is. Now that I've seen a little piece of paradise in Panamá, where will my next Visa-Run take me to? Perhaps Nicaragua? The good news is that I've got three months to decide…
For information on visa requirements while studying Spanish at Intercultura, please visit: http://costarica.com/visa/