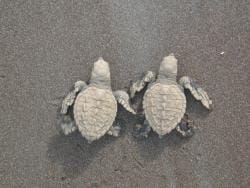 Protecting the Lora Turtles of Ostional
Close to our Spanish school in Samara, turtles are making their way to lay their eggs in Ostional, Costa Rica, a phenomenon known in Spanish as "arribada" or a mass emergence from the ocean. Thousands of "tortugas lora," or olive ridley turtles nest here each year in the refuge that was created in 1984. Prior to 1984, there were no laws prohibiting or regulating the removal of turtle eggs from the beach.
Turtles nest in Ostional year round, but during rainy season, a few hundred turtles will arrive and start nesting. For the next 5-7 days, thousands of turtles dig holes and lay their eggs. The largest recorded arribada was in 1995 with around 500,000 turtles came ashore.
When there are thousand of turtles, the later arriving females make their nests on top of other nests which kills the first laid eggs. The Costa Rica government has implemented a program that removes the eggs as they are laid so that they can be transfered to another safe area to hatch and make their way to the sea. Most baby turtles never reach maturity, but those that do will return to Ostional in 10-15 years to make their own nest, following the scent back to the beach where they hatched.
To see a video of the community working together to protect the turtles, click here.
For more information about volunteering while studying Spanish in Costa Rica, please click here.