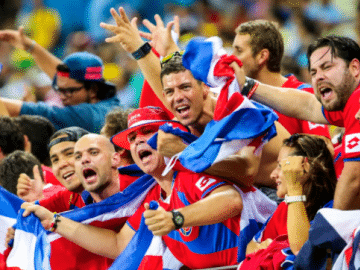 Spanish Immersion for Sports Fans in Heredia
While I was a student at Intercultura, learning Spanish via classes and immersion, I also found myself immersed in an unexpected exciting and passion filled extracurricular activity: fútbol (or soccer for my fellow gringos).
Costa Rican Soccer Renaissance
In the 2014 World Cup in Brazil, the Costa Rican National Team, affectionately known as La Sele, won their group by beating Uruguay and Italy; and tying with England. They beat Greece on penalty kicks in the round of 16 and finally fell in the quarterfinals on penalty kicks after a valiant nil-nil struggle versus European power the Netherlands.
This quarterfinal appearance was the best World Cup performance in the history of the Costa Rican National Team.
With a few notable exceptions, like Real Madrid's Keylor Navas and Sporting Portugal's Bryan Ruiz, many of la Sele's players also play on club teams in the top Costa Rican professional league.
Costa Rican League
The top Costa Rican professional soccer league, La Primera Division, features twelve teams that play two tournaments (or seasons as we think of them in North America) per year:
Invierno (winter) which is played during the rainier green season between August and December.
Verano (summer) which is played in the dryer months between January and May.
Each season begins with a schedule in which each team plays every other team once at home and once away.
The top four teams from this home-and-away schedule qualify for the next stage, known as the quadrangular, which is another set of home-and-away matches for each of the four qualifying teams.
If the winner of the first stage is the same as the winner of the quadrangular, then that team is automatically crowned champion. If not, then the two winners of each stages play a home-and-away series to determine the champion.
Since 2015 one team has been dominant, winning three championships.
The poorest performing team across the year's two tournaments is relegated to the second division.
The champion and top teams from la Primera Division regularly excel in regional tournaments against US, Mexican, Caribbean and other Central American professional teams. In 2015, the same team dominates the la Primera Division, Costa Rica reached the semifinals of the CONCACAF Champions League, a tournament of the region's best professional soccer clubs including MLS and Mexico's Liga MX.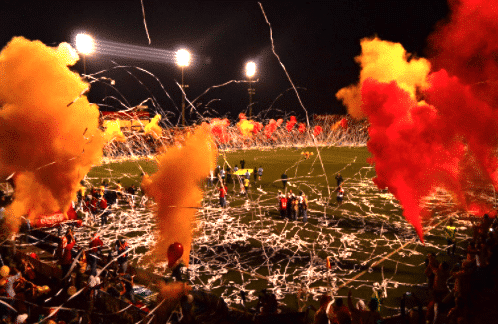 Club Sport Herediano
The team that has dominated professional soccer in Costa Rica since 2015 is Club Sport Herediano or just simply, Herediano. Among fans they are known as El Team.
Herediano is one of only two clubs that have never been relegated from the top tier of Tico fútbol. Los Rojiamarillos (another Herediano nickname) have won 26 league championships in 97 years and have been runner-up 14 times.
In international play they have made both the quarterfinals and semifinals of the CONCACAF Champion's League.
As the name suggests, Herediano is in Heredia. The team plays its home games in a stadium that is a mere three blocks from Intercultura.
Spanish Immersion + Soccer
While a student at Intercultura, I loved attending Herediano games. The passion of the fans and the almost 100-year tradition of the team makes a top-notch sports environment.
Hours before game time downtown Heredia is full of red-and-yellow clad fans spilling out of restaurants, pubs and shops. As game time slowly approaches the streets become livelier. Team chants become louder and more frequent. Slowly, pedestrians overtake cars on the street, like a slowly building block party, as thousands of fans, including me, amble toward the stadium to enjoy a night of passionate fútbol, culture and community. Sounds like fun, right?
About the Author
Jake Fisher is partner in a multicultural marketing firm, Bridges Strategies. He is also a former student at Intercultura and loves his sports teams: the Oklahoma City Thunder, University of Oklahoma Sooners and Club Sport Herediano.
Photo credits:
By Danilo Borges/Portal da Copa [CC BY 3.0 br (http://creativecommons.org/licenses/by/3.0/br/deed.en)], via Wikimedia Commons
By Victor Quirós A (Own work) [CC BY-SA 3.0 (http://creativecommons.org/licenses/by-sa/3.0)], via Wikimedia Commons