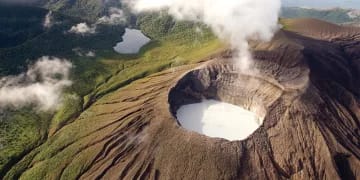 Rincón de la Vieja National Park – Must Explore
Why Rincón de la Vieja National Park should be on your weekend bucket list.
When coming to learn Spanish at our beachfront campus in Costa Rica you should make a day trip to one of the most famous national parks in Costa Rica – Rincón de la Vieja.
Rincón de la Vieja National park is the perfect contrast to the tropical beach life when studying Spanish with us in Playa Sámara.
When students come to learn Spanish at Intercultura Costa Rica we want them to experience more than just learning Spanish. Exploring the country and learning about its history will enrich their whole language immersion vacation.
Learn more about Costa Rica's indigenous history and how it carries over into current society.
In this blog from Samara Adventures you will learn about Rincón de la Vieja (Old Lady's Corner) National park and the surprising story behind its name. Read more!
What will most surprise you about the skirts of Rincón de la Vieja Volcano…
…is the enchanting countryside. The shape and color of its mountains, the chalk white sand, and flourishing flora and fauna make it all magical. To us, a must-explore corner when visiting Costa Rica.
During green season the waterfalls at the volcano really start to show off.
Hiking in Rincón de la Vieja National Park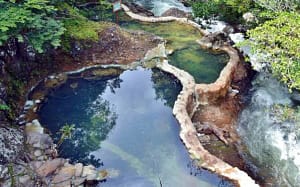 One of our favorite activities in this park is to visit the boiling mudpots, followed by a hike to the gorgeous rivers and waterfalls. The Oropéndula Waterfall is one of the most beautiful in Guanacaste. Its waters plunge 82 feet down into crystal clear waters, ideal for a swim on a hot day. The trail to the waterfall is less than a mile round trip, and easily accessible for all ages and hiking abilities.
For the more adventurous, the 115-foot high Victoria Waterfall on the Río Negro provides a starting point for tubing down the river. And that's not all! Clear, deep pools at the foot of the falls will grant a wow factor.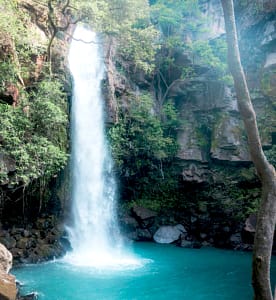 Other options include horse-riding to another spectacular waterfall, Las Chorreras, or a hike to La Cangreja (the crab), whose cascading waters come right out of the jungle into a bright blue pool colored by volcanic minerals. This is definitely a great place for a refreshing swim after the 3 mile hike through the park to get there.