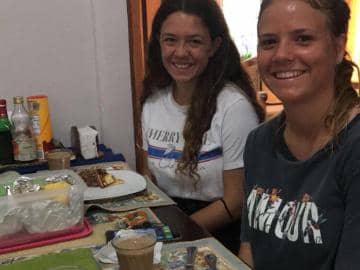 A letter to my homestay family
Seraina and Aurelia, two sisters from Switzerland, spent 4 weeks at our Spanish school in Playa Sámara and enjoyed their time to the fullest. They particularly enjoyed the time together with their hostfamily.
Homestay mother Alice shares a house with her daughter Estefanía and his grandson Matías.
The sisters left a heart-warming note for them in Spanish:
"Queridos Alice, Estefanía y Mati
¡Muchas gracias por esos cuartos semanas inolvidables! Es increíble que rápido un mes pasa cuando usted pasa un tiempo tan maravilloso.
Nosotros empezamos nuestra estancia aquí en Sámara casi sin hablar español y los primeros días estuvieron difícil a comunicar para nosotros.
Gracias para ayudarnos tan mucho. Cada día nosotros aprendíamos un poco mas español.
Alice, la comida estaba muy muy muy rico y nosotros nos alegrábamos cada día de la cena y también del almuerzo. Gracias también para lavar nuestra ropa y por conversaciones muy interesantes.
Estefanía; gracias para ayudarnos con todo. Vamos a extrañar tu manera alegre.
Mati, las noches cuando nosotros jugábamos "hide&seek" /" veo, veo" estaban muy divertidos, aunque tu nos achantaba frecuentemente …: D
Los días en la playa estaban muy pura vida. Nosotras surfeábamos casi todos los días y disfrutábamos mucho el sol y el mar.
El tiempo en Sámara y con ustedes va a agredar en nuestros recuerdos por siempre!
Si ustedes estarán en Suiza una vez y querrán ver las montañas u aprender la vela se ponen en contacto con nosotras! Nos vemos!
Pura Vida
Las hermanas de Suiza
Seraina y Aurelia"
Visited April 2018