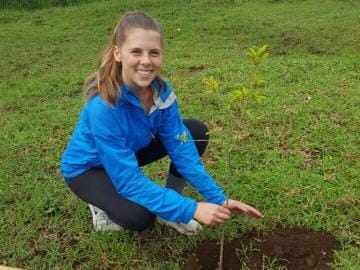 How to choose a Spanish program for my teen
A BLOG POST FOR PARENTS & TEEN STUDENTS – AGES 13 – 17
Why should my teen study abroad with Intercultura Costa Rica Spanish Schools?

All inclusive programs

Intensive Spanish Classes

Complete cultural immersion

Safe and supportive environment

Volunteer experience
We are pleased to offer a variety of Spanish language immersion programs especially designed for teens. As a parent or teen, you may be wondering which program to choose from. If, after reading this guide, you are still uncertain, don't hesitate to contact one of our student services representatives who will be happy to walk you through which option, or combination of options, is best for your teen.
Our Teen Programs:
Year-Round Academic Spanish Immersion
Year-Round Kids/Teen Camp Classes (traveling with guardian)
What is included in our teen programs:

Teen Spanish Summer Camp
2 weeks, action packed, all-inclusive experience (first week at our Heredia City Campus, second week at our Samara Beach Campus)
Airport pick-up and drop-off
Homestay with local families
Laundry service once a week
3 meals a day
Intensive Spanish class
Volunteer experience
Daily cultural activities and excursions, including a weekend long excursion
On-site student services support team
Pre-determined dates

Year-Round Academic Spanish Immersion
Program available year-round at our Heredia City campus
Airport pick-up and drop-off
Homestay with local family
3 meals a day
Laundry service once a week
Intensive Spanish class
Volunteer activity twice a week
Daily cultural activities
Optional excursions (additional cost applies)
On-site student services support team

Year-Round Kids/Teen Camp Classes (traveling with parent or guardian)
Program available year-round at either or both our Heredia City campus and Samara Beach campus
Intensive and fun Spanish camp class with the same schedule as other family members
Combination of in-class learning and out of class activities based on the levels present within the group
Multi-level classes and multi-age groups, primary focus is to conduct learning-based activities and games in Spanish, with a lesser emphasis on traditional second language acquisition structures
Daily cultural activities
On-site student services support team Optional homestay program with parents or chaperone (additional cost applies)
Optional homestay shared with parents (additional cost applies)
Optional excursions (additional cost applies)
Which program is best for my teen?

My teen is very mature, independent and adaptable.
Our Year-Round Academic Spanish Immersion program would be a great fit. This program offers enough guidance and support to assure peace of mind for the parents back home but at the same time giving the mature, responsible student some flexibility to make positive decisions on how to spend his or her time.

We have family (or a friend) who lives near your school. We would like to send our teen to stay with them for a few weeks over summer break and take Spanish classes during his stay.
Kids/Teen Camp Classes (traveling with parent or guardian) are a great option in this case. For participants in this program, the teens in country guardian is solely responsible for the student outside of his or her class schedule and must also be available by phone while the student is on campus.

My 18-year-old daughter will finish high school soon and would like to take a semester to travel and learn a second language before starting university.
For a more independent experience, and more economical option for a longer stay, you may want to consider our GAP semester program. You can find more information on our website.

My young teen, in addition to improving his Spanish during his summer vacation, wants to take in all of the fun adventures he's been reading about when researching Costa Rica.
Our Spanish Summer Camp is perfect for a teen who wants a lot of activity, supervision, and structure along with making a lot of new friends.
For parents, our Summer Camp provides a program that gives them a lot of peace of mind. Your teen won't have to worry about a thing. Meals, transportation, Spanish class, volunteer opportunity, exciting excursions and cultural activities are all taken care of ahead of time and included in the package. In addition, the teen participants have an on-site chaperone who accompanies them on all outings and excursions during the camp and is available 24 hours a day to tend to any problems, concerns or emergencies.

Our teen is traveling on a restricted budget, but wants to enjoy the local culture, practice his Spanish, and make lasting memories with a Costa Rica family.
The Year-round Academic Immersion program is a very economical option, and the weekly rate is even less for additional weeks beyond the first. Inquire with our enrollment coordinator to get a quote.
In addition, the program is available year round, so you can pick dates for the program that correspond with cheaper air-fare.

We would love for our son to participate in the Teen Spanish Summer Camp, but he is already busy for the selected dates. What alternative options could we consider?
He could participate in the Year-round Academic Immersion and add fun weekend and day excursions (for an extra cost) to round out his experience with more adventure and site-seeing. Just keep in mind that excursions are arranged during the week they are offered, so the excursions could not be confirmed or paid for ahead of time.
If it is very important that your teen has the opportunity to meet and spend time with other teen participants, please consider registering him during the months of June, July or early August, as these are the busiest month for teen participants.
Does your teen have friends who would like to join in the fun? If so, we would be happy to plan a customized group trip (like what we plan for the Teen Spanish Summer Camp) for your teen and his friends. We can include as much or as few activities, as many hours of Spanish class as desired, excursions, and volunteer activities as requested and prepare a customized itinerary and quote. A minimum amount of participants are needed for a specialized program.

It is very important to my teen to spend time at the beach during his time in Costa Rica.
Included in the Teen Spanish Summer Camp is one week at our Samara Beach campus.
If traveling as a family, our Kids/Teen Camp Classes are available year-round at both our Heredia city campus and Samara beach campus.

We have already decided to sign our daughter up for the Teen Spanish Summer Camp, but she would like to extend her stay for a couple more weeks, what options would we have?
Many of our students who complete the Summer Camp, continue with Intercultura by registering for our Year-Round Spanish Immersion Program. This is a great way for the student to continue to improve their Spanish and get to know their Heredia homestay family even better.

Our family will be traveling all together, and we would all like to experience a Spanish Immersion program together.
Our Kids/Teen Camp Classes for the young ones (8 years or older) and our Adult Spanish Immersion program is a great combination for families. We will assure that all of the family members schedules coincide.
For optimum cultural immersion and Spanish practice, we highly recommend that families also register for our homestay program.
What is NOT included in our teen programs?

Round trip airfare
Please note that Costa Rica has two international airports. Teen participants should arrange to fly in and out of the San Jose, Costa Rica International Airport (Juan Santa Maria) to take advantage of our included airport pick-up and drop-off.
Families should check with the airline ahead of time for any special arrangements that need made with the host family to allow for the airport pick-up of the minor child. Requirements vary depending on age of traveler and airline.
Travelers from the United States, Canada, and many European countries are granted a tourist visa to travelers who enter Costa Rica with a valid passport and proof of onward travel within 90 days of date of entry, usually in the form of a return plane ticket. Visitors are free to participate in tourism, short term study experiences, and volunteer experiences during their time in the country. Please check for updates with the US state department and Costa Rican immigration offices or consular before finalizing travel plans.

International health or travel insurance
Costa Rica has a socialized medical system, where anyone in the country (including foreigners) could seek medical services in the case of an emergency at a local Social Services hospital at either no or reduced costs. The medical professionals are highly trained professionals and provide excellent care.
Many foreigners and some locals prefer the more personalized attention and faster care provided at one of several internationally recognized and modern private hospitals available in the San Jose metropolitan area. Private hospitals except international insurance.
Access to medical professionals in the private sector for non-emergency situations are readily available. Our student services team will be happy to assist our teen participants who may need to visit a doctor, dentist, or specialist for any reason.

Legal assistance
Our teen participants, and their parents, of both the Teen Summer Spanish Camp and Year-Round Academic Spanish Immersion programs are required to read and sign a liability form assuring the teen is committed to following all rules, local laws, and safety suggestions from our student services team as well as the homestay family.
The teen is required to attend an orientation on their first day of class, where the rules and expectations of the program are clearly outlined, so there are no miss-understandings.
If a teen participant chooses to break an established rule or local law, and finds themselves in a legally compromising situation, our student services team will contact the teens family as soon as we become aware of the situation and provide guidance and support to the extent possible. However, Intercultura or its staff CAN NOT provide legal advice or legal counsel to the participant or his/her family. This responsibility would fall on the minor's legal guardian in their home country.