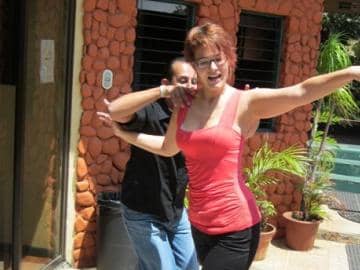 Student Experience: Learn Spanish and how to become a really good salsa dancer!
Ramona, 22 years old and from Germany, was a student with us for 4 weeks. She is now doing some volunteering before she is going to return to Germany in order to continue her apprenticeship at Bosch. As a little thank you for the whole Intercultura Team, she performed a dance together with our dance teacher Enrique during graduation. All the rehearsals really paid off! Besides improving her Spanish skills, she definitely will take home some amazing Salsa skills. Congratulations Ramona!
Interview with Ramona
We asked Ramona a few questions about how she liked our Spanish Program and what she thinks of Costa Rica.
What have you liked most about Intercultura?
"The people at Intercultura are really nice. At reception you get help in any way and the teachers for Español are very good. They try to explain everything in Spanish and are very patient. Also the other teachers (e.g. dancing class or cooking class) are very nice. Everyone at Intercultura is interested in a nice stay for the students. The students from all over the world are open-minded, too."
How would you evaluate your learning process in the Spanish language after studying at Intercultura?
"Well, I arrived at Costa Rica with very bad Spanish and tried all the time to use my French, English or German instead of Spanish because I was a little bit shy. Today (after 4 weeks of class), it is a little hard to write and sometimes to talk in English. Sometimes it is a mix, like SpEnglish, but I improved very much. I am able to understand most of the Ticos here and am able to respond in Spanish, too. So the teachers did a good job.J"
Would you recommend other people to study Spanish at Intercultura?
"Definitely! I really liked everything about Intercultura. There are many trips all around Costa Rica and in other countries, like Nicaragua. And again, the people over there are very open-minded and caring. If you feel bad or anything else there is always a person apart from your Tica-Mom to talk to. I felt very secured and really recommend Intercultura to you."
Will you come back to Costa Rica in the future?
"I will! Costa Rica is such a nice country with many different faces. There are many wonderful beaches but mountains, too. And it is very easy to travel from San José (about half an hour with bus from Heredia) to every place you like to. It is very common to use the bus, because flying is very expensive and there is no train. But all busses are very comfortable und travelling Tico-Style is not that boring or stressing than you think. Apart from that, all Ticos and Ticas are open-minded and caring if you need any help."