One school, many cultures, and two unique locations
Scroll naar beneden voor Nederlands
It has already been a month since I have started my adventure in Costa Rica. After a long flight with a stopover at Aeropuerto Internacional de Tocumen (Panamá), where I had already been able to get used to the somewhat higher ambient temperatures, I arrived at Aeropuerto Internacional Juan Santamaría, Costa Rica. There, a friendly smiling lady holding a name sign, was awaiting me. This lady was my host mum, named Xinia. After a pleasant first encounter, she drove me to her house in Heredia. During the ride she told me about her life in Heredia, her two daughters, her help at home Patricia, and her beloved dog Tony.
During my first week in Heredia, I started off every day with a delicious breakfast with my mamá Tica Xinia, after which I'd go to the school to start my four hours a day classes. The classes were always well organised and entertaining. The teachers at Intercultura make use of many alternate teaching methods such as showing video clips, museums visits, and analysing the lyrics of well-known Latin American songs. Classes are generally small and never bigger than five. After classes, I usually stayed at the school to have lunch with other students or to do my homework. In the afternoon I usually spent time with other students in el Parque Los Ángeles or visited the sights of Heredia.

On Wednesday, I joined a daytour organised by the school to 'Las Jardines Catarata de la Paz', a nature park with waterfalls, many animal species and nature. The road to the park was breathtaking. It's striking how after only a short drive uphill you can encounter a completely different landscape. Due to Heredia's favourable location in the Central Valley it's very easy to make day- and weekendtrips.

I've really enjoyed my time with the host family in Heredia where I felt right at home. Every day I enjoyed delicious food and by spending much time with the family, I've been able to improve my Spanish a lot. After my first week in Heredia, I travelled to Sámara on Sunday; this was an approximately five hour lasting journey. The first thing I was confronted with upon arrival, was the warm climate in the province of Guanacaste. During my stay in Heredia the average temperature was about 25 degrees, while the temperatures in Sámara usually vary from 30 to 35 degrees. In addition, one is immediately confronted with the fact that Sámara is a serene, rural area with a small city centre, while Heredia is a big city with parks, a lot of shops, restaurants and heavy traffic.

Once I had arrived in Sámara, I and a few other future students walked to the school within five minutes, where we were picked up by our host families. In Sámara, I´m staying with a host family during eight weeks. It is a lovely family consisting of my mamá Tica Adoración, her son David en their dog Calí. They live in a house with a patio within three minutes walking distance from the school. Also in this family, I feel very much at home; I have a neat room with a mosquito net and a big fan. Adoración has a big family and knows a lot of people in Sámara, so there´s always something going on in the house. During the weekend we often make short excursions in the area or we visit her family. In addition, Adoración is a very good cook. She surprises me every night wit a new local dish, and also breakfast differs from day to day.

The school in Sámara is located on a wonderful location, directly on the beach, and within two minutes walking distance from the small city centre. Just like the school in Heredia, the school disposes of many facilities such as computers, lockers, WiFi and big classrooms with so-called ´smart-boards´, which offer the teachers many different possibilities to explain the students the teaching materials. Additionaly, the school in Sámara disposes of a big garden with hammocks, outdoor showers, a big study area and a roofed outside space where the weekly yoga-, Zumba- and Latin Dance classes take place. The school is opened daily for students from 07:00 till 22:00, also during the weekends. During these hours there is always surveillance staff present to make sure that only students enter the property. The school in Sámara also offers a Spanish & Surf programme which enables students to combine their Spanish classes with surf classes.

Both campuses offer free activities. In Heredia these activities for example include the ´Intercambios´ with Tico students, watching a movie in Spanish and Latin Dance- and cooking classes. In Sámara the activities among others include Latin Dance-, Yoga-, Zumba-, handcraft-, and cooking classes. Both campuses also offer tours and excursions, which students can participate in against payment. Thanks to Heredia´s central location, it is easy to reach other venues quickly, which is why the school also offers a lot of daytrips to other locations. In Sámara, a lot of weekendtours to other venues are offered, but also daytours which take place in Sámara, such as a coffeetour, paddle boarding or a snorkelling tour.

I can advise everyone who is planning on taking Spanish classes at Intercultura, to combine both campuses and to live with a host family. In this way, you´ll get a good picture of the culture differences within Costa Rica. Whereas the living conditions in Heredia are generally very comparable to the living conditions in many European countries, the living conditions in Sámara are more basic and the houses are built in a manner which is typical in tropical areas. There also exist many differences in the field of eating habits and the way in which the families make their money. In addition, you´ll spend a lot of time outside or on the beach during your stay in Sámara, while in Heredia you will spend more time indoor with the host family.
I´d like to recommend anyyone who is considering studying Spanish in Latin-America and who´d like to have a culturally and socially enriching experience, to take classes with Intercultura. The teachers are professional and at the same time very friendly and you´ll be amazed of how much progress you will make in a short amount of time, especially if you would decide to stay with a host family.
Finally, I can only say, I hope to see you all soon and Pura Vida!!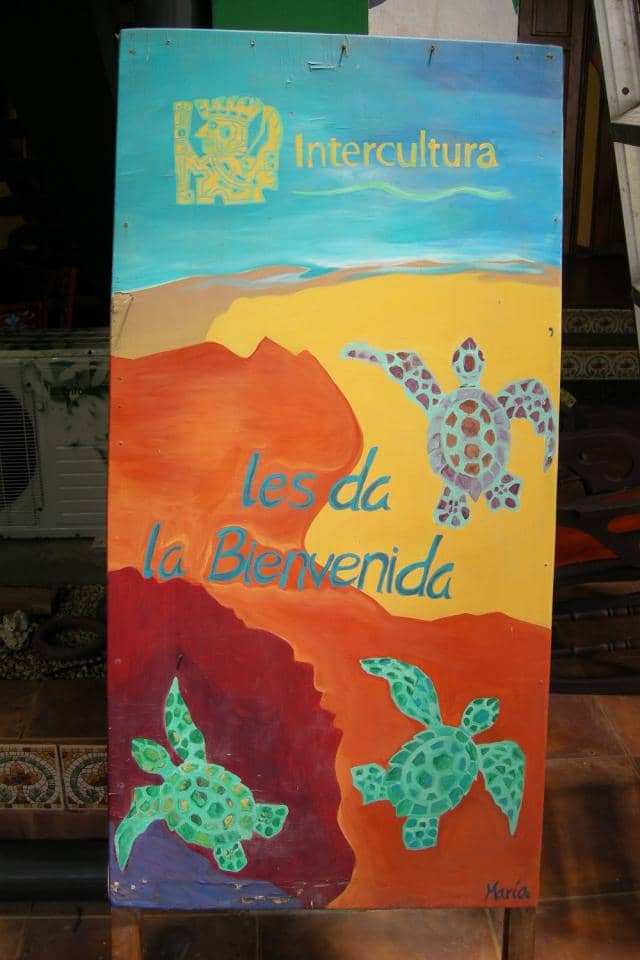 Intercultura Costa Rica: één school, twee unieke locaties
Het is alweer een maand geleden dat ik mijn reis naar Costa Rica ben begonnen. Na een lange vlucht met een tussenstop op Aeropuerto Internacional de Tocumen (Panamá) waar ik alvast aan de nieuwe, ietwat hogere omgevingstemperaturen had kunnen wennen, kwam ik aan op het vliegveld van San José. Aldaar stond een vriendelijk lachende vrouw me met een naambordje op te wachten. Deze vrouw, mijn kersverse gastmoeder Xinia, bracht me vervolgens in haar auto naar haar huis in Heredia. Gedurende de rit in de auto vertelde ze me over haar leven in Heredia, twee dochters, haar hulp in huis Patricia, en haar hond Tony.
Gedurende mijn eerste week in Heredia begon ik elke dag met een ontbijt met mijn gastmoeder Xinia en heb ik daarna elke dag vier uur Spaanse les gevolgd. De lessen zijn goed georganiseerd, vermakelijk, en er wordt veel gebruik gemaakt van alternatief onderwijs zoals het bezoeken van musea, het analyseren van songteksten, en het bekijken van video fragmenten. De klassen zijn doorgaans klein en de groepen bestaan nooit uit meer dan vijf personen. Na de les bleef ik vaak graag nog even op de school hangen om te lunchen met andere studenten, of mijn huiswerk te maken. ´s Middags zat ik meestal met andere studenten in het park of bezocht ik delen van Heredia die ik nog niet kende.
Op woensdag heb ik een dagtour gemaakt naar ´Las Jardines Catarata de la Paz´, een natuurpark met watervallen, vele diersoorten en natuur. Vanwege Heredia´s gunstige ligging (Valle Central), is het erg gemakkelijk om dag- of weekendtrips te maken.
Ik heb een fijne tijd gehad bij het gastgezin in Heredia en ik voelde me er meteen thuis. Er werd elke dag heerlijk gekookt en door veel tijd met de familie door te brengen, heb ik mijn Spaans veel kunnen verbeteren. Na mijn week in Heredia ben ik op zondag via San José met de bus naar Sámara gegaan, een reis van in totaal ongeveer 4,5 uur. Waar ik bij aankomst in Sámara eerst mee geconfronteerd werd, was het warme klimaat in de provincie Guanacaste. Gedurende mijn verblijf in Heredia was de gemiddelde temperatuur ongeveer 25 graden, terwijl de temperatuur in Sámara doorgaans rond de 30 en 35 graden schommelt. Daarnaast valt meteen op dat Sámara een rustig landelijk gebied met een klein centrum is, waar de bevolking leeft van toerisme, landbouw en visserij, terwijl Heredia een grotere stad is met parken, veel winkels, restaurants en verkeer.
Eenmaal aangekomen in Sámara, liep ik met een aantal andere nieuwe studenten binnen vijf minuten naar de school, waar we vervolgens door onze gastfamilies werden opgehaald. Ik verblijf hier gedurende acht weken bij mamá Tica Adoración, haar zoon David en hun hond Calí, in een huis op drie minuten loopafstand van de school. Het huis beschikt over een patio en ik heb hier een mooie, grote kamer met muggennet en ventilator. Ook in dit gezin voel ik me heel erg thuis. Adoración heeft een grote familie en kent veel mensen in Sámara, dus er is altijd wel wat te beleven. Gedurende het weekend gaan we vaak samen op pad of bezoeken we haar familie. Daarnaast is Adoración een uitstekende kokkin. Elke avond verrast ze me met een nieuw lokaal gerecht, en ook het ontbijt verschilt van dag tot dag.
De school in Sámara is gesitueerd op een prachtige locatie, direct aan het strand en op twee minuten loopafstand van het kleine centrum. De school beschikt net zoals de school in Heredia, over vele faciliteiten zoals computers, kluisjes, WiFi en grote klaslokalen met zogenaamde 'smart boards' die vele verschillende mogelijkheden bieden om studenten de lesstof uit te leggen. Daarnaast beschikt de school in Sámara over een grote tuin met hangmatten, buitendouches, vele studieplaatsen en een overdekte buitenruimte waar de wekelijkse yoga-, zumba- en danslessen georganiseerd worden. De school is dagelijks van 07.00 tot 22.00 geopend voor studenten, ook in het weekend. Er is gedurende deze uren altijd surveillance personeel aanwezig om te garanderen dat alleen studenten het terrein betreden. De school in Sámara biedt ook een combinatie programma aan dat studenten de mogelijkheid biedt om naast de Spaanse lessen ook surflessen te volgen.
Beide campussen bieden gratis activiteiten aan. In Heredia zijn dat ´Intercambios´ met Tico studenten, filmmiddagen en de salsa- en kooklessen. In Sámara zijn dat de salsa- en kooklessen, yoga- en Zumbalessen, filmmiddagen, en de Artesania (handwerk) lessen. Beide campussen bieden eveneens tours en excursies aan, waaraan tegen betaling kan worden deelgenomen. Dankzij de centrale ligging van Heredia, is het gemakkelijk om andere locaties snel te bereiken en worden er naast weekendtours ook diverse dagtours naar andere plaatsen aangeboden. In Sámara, worden er eveneens vele weekendtours naar andere plaatsen aangeboden, maar ook dagtours die in Sámara zelf plaatsvinden zoals een koffietour, een snorkeltour of een middag paddle boarding.
Ik kan iedereen aanraden om beide campussen te combineren en om bij een gastfamilie te wonen, omdat je zo een beter beeld krijgt van de cultuurverschillen die er binnen het land bestaan. Waar de leef- en woonomstandigheden in Heredia over het algemeen redelijk vergelijkbaar zijn met die in Europa, zullen de leef- en woonomstandigheden in Sámara in over het algemeen vrij ´basic´ zijn. Families hebben minder te besteden en de huizen zijn hier gebouwd op een manier die goed past bij het tropische klimaat, wat betekent dat er vaak veel buitenruimte is. Er bestaan overigens niet alleen verschillen op het gebied van de leef- en woonomstandigheden, maar ook op het gebied van eetgewoonten en de manier waarop een familie haar geld verdient. Daarnaast zul je in Heredia veel tijd binnenshuis bij de familie doorbrengen, terwijl je in Sámara veel buiten bent, of op het strand.
Ik kan iedereen die er over nadenkt om Spaans te studeren in Latijns-Amerika, en tegelijkertijd op zoek is naar een ervaring die op cultureel en sociaal gebied verreikend is, aanraden om Spaanse lessen te volgen bij Intercultura. De leraren zijn professioneel en tegelijkertijd ontzettend vriendelijk en je zult ervan versteld staan hoe snel je Spaans vooruitgaat, zeker als je besluit om bij een gastfamilie te verblijven.
Tot slot kan ik alleen maar zeggen, hopelijk tot snel en Pura Vida!