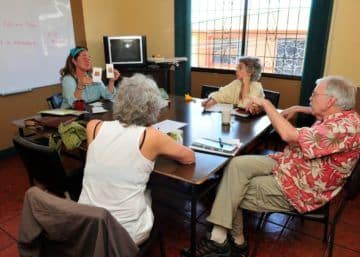 Learning Spanish as a senior
SPANISH IMMERSION FOR SENIORS
Come as a group. Discover a new culture, exercise your brain and create new memories!
Customized Spanish immersion programs for groups can be a fun and rewarding experience! As for Spanish immersion for seniors we offer a combination of a Spanish course, cultural immersion activities and optional weekend travel opportunities. Spanish classes are personalized to your group's needs. Within our Spanish course options you can choose between group classes, private or semi-private classes. Our group classes are small with a minimum of two and a maximum of four students during the corona pandemic.
Our three-pronged approach to language acquisition includes:
Innovative, dynamic language classes tailored to your interests
Cultural activities based on local traditions
Linguistic immersion through your homestay experience (optional)
Our both campus locations have beautiful facilities and amiable learning environments.
Your senior group can choose to study in Historic Heredia City, right on the beach at our Sámara Beach Campus, or both! Each campus and region has a distinctive character, way of life and charm. Moreover, we encourage you to live with one of our comfortable and friendly host families. With it, we make sure to pick a family that suits you best, according to your age and interests. Homestays offer a private room, laundry service and ample opportunity to practice your new language skills.
What your Spanish immersion for seniors program would look like:
Airport pickup and drop off
20 hours per week group classes*, or a maximum of 15 private lessons, or less if desired
One to two mid-week cultural excursions: For example in Heredia: San José historic city tour, café tour, waterfalls. At our beach location in Sámara that can be a ocean dolphin search & snorkeling tour, nature hike, kayaking amon others.
Daily cultural activities at the school: Latin dance, cooking, yoga and more
Homestay family accommodation with a comfortable private room, laundry service and two meals per day, walking distance to the school, or
Lodging in a hotel according to your preferences.
Weekend trip(s) to volcano/ beach/ national park
Student advisor and help with additional travel and accommodation planning
You are a senior but don't have a group to travel with?
Sign up for our regular Spanish immersion classes and meet people of all ages. Usually, we have lots of senior students throughout the year who come and study on their own!
Summarized, if you have a group of like-minded with the desire to explore Costa Rica, learn Spanish and create new memories, then our Spanish immersion for seniors is the right fit for you.