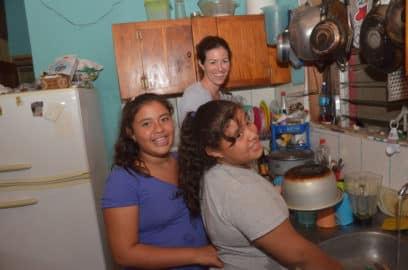 Homestay Spanish Immersion
Learn even more Spanish in Costa Rica while living with a local homestay family.
Are you seeking a total language immersion experience in Costa Rica?
With a Homestay Spanish Immersion you will boost your exposure to the Spanish language and Costa Rican culture. A homestay accommodation provides not only an invaluable source of Spanish practice but also a wonderful interpersonal experience.
Homestay Spanish Immersion at Intercultura Costa Rica is...
...when students take Spanish immersion classes at our Spanish school and live with one of our qualified host families. Then, you can divide your program length between both of our high contrast school locations. Choosing Playa Sámara and Heredia City will give you the real opportunity to experience two different homestay families and lifestyles. In the end you get a more holistic picture of Costa Rica´s warmhearted people and cheerful culture.
Suitable for students of all ages and any language level
This program is for everyone who wants to be fully immersed in the Spanish language throughout the entire Spanish program. You can combine any of our Spanish program options with a homestay accommodation. No matter if you are an individual traveler, a couple, a family or if you are bringing along a high school or university group.
The homestay Spanish immersion program offers you a highly effective and enjoyable Spanish learning experience.
You will surround yourself with native Spanish speakers and progress naturally within an authentic environment. In only a few weeks, you can improve your Spanish fluency and comprehension in a way you never thought possible. A homestay experience is therefore the most efficient way to accelerate your Spanish learning.
Proven benefits of living with a local host family
Staying with a local family you will:
Put into practice the Spanish you learn in the classroom.
Enjoy lots of informal conversation at the breakfast and dinner table.
Participate in cultural and social activities and family events.
Connect with and integrate yourself into the Costa Rican community.
Greatly facilitate your learning process, and the speed with which fluency is acquired.
Be taken out of your comfort zone and challenged to adapt to a new culture!
What should I know before deciding on a homestay accommodation?
If you consider yourself to be an adaptable person, who is open to cultural differences and new challenges, then a homestay experience is for you. On the one hand, you probably won't have a private bathroom, AC (or even - at our beach location in Sámara - a hot shower!). On the other hand, you will have a chance to truly get to know and participate in a culture different from your own. Moreover, you won't have to worry about any logistical concerns such as making dinner or washing your clothes!
The success of a cross-cultural and an immersion experience will always depend mostly on what you put into it. So, the more effort you put into interacting with your host family, the more you will learn Spanish. Jake Fisher, one of our frequent return students, also says: "...a language immersion is also a cultural immersion, and Costa Rican culture is rich and lovely." If you want to read more about Jake's first-hand Spanish learning and homestay experiences in Costa Rica click here.
In conclusion, a homestay immersion, in combination with intensive language studies, is the perfect program to make the most of your Spanish studies abroad. You will surely gain on intercultural experience that can leave life-changing impressions.