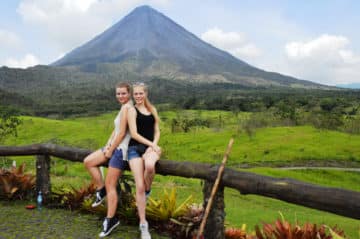 Study abroad in Costa Rica as a High School Student in 2023
Are you looking for a Spanish study abroad opportunity for your teen son or daughter?
At Intercultura Costa Rica we offer a year-round study abroad program with a dynamic and fun curriculum designed for high school Students aged 16 and 17.
In other words, if your teen or high school student can't make it to our Spanish Summer Camp she or he can still come to Costa Rica by her-/himself. Our all-inclusive study abroad program for high school students is ideal for those who wish to come any other time throughout the year.
Studying abroad in Costa Rica as a teenager: our Academic Spanish Study and Culture Immersion program
This exclusive study abroad program:
Teaches new intercultural communication skills.
Prepares students for college as they gain independence, and life experience.
It helps students develop a global perspective.
Challenges students to achieve an excellent level of Spanish communication.
With our highly qualified, teachers, dynamic campus life, and exciting activities program we make sure that your teen has an enriching and seamless educational immersion experience. 
Our Heredia City Campus – a tropical oasis in the middle of downtown Heredia
This program is available at our Historic Heredia Campus, located near San José. The school campus provides excellent facilities, a safe space for students, and skilled teachers dedicated to working with teenagers. Our teachers have many years of experience working with the youth. They, therefore, know how to challenge them during class, while making sure to have lots of fun at the same time. Homestays are all within walking distance of the school. Your child will therefore be able to get quickly and safely to school each day.
Meet former high school study abroad student Annalise from the United States and find out why she studied Spanish with us!
Things to consider before signing up for a study abroad program in Costa Rica
Teens who come on their own should expect full cultural immersion in the school and the homestay setting. Furthermore, they will live with Costa Rican kids around their own age. They therefore should not expect a summer camp environment with lots of other foreign teens.
Many schools or parents plan their own mini-groups. For those who prefer to travel with their peers from back home, we can place teens in the same families or families very close by, as you choose.
Classes are intensive, with four hours of study per day. Additionally, they involve homework and research projects appropriate to the age group. Teenagers are expected to be punctual, and participatory and complete all assignments.
Volunteering is a mandatory part of the curriculum. Ideally, the teenager approaches this experience with a positive, hands-on attitude.
To summarize, our study abroad program for young people is teaching your high school student the Spanish language. On top of that, they learn practical tools for communication and self-sufficiency in international and cross-cultural environments.
The experience of studying abroad will inspire new ideas and awaken new interests in your child. It will return home with incredible stories to tell. Also, it will have a deeper appreciation for the world around them.
If this has been helpful for you, then you may also be interested in reading our five reasons why traveling abroad is important for young people.