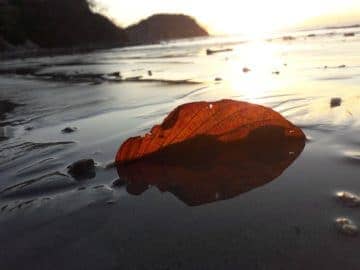 COVID-19 Pandemic: patience, understanding, and connection. Just like learning a foreign language
As with every individual and business in the world, Intercultura Costa Rica is feeling the effects of the COVID-19 pandemic. The small beach town of Sámara, in Costa Rica's Guanacaste region, is nearly completely dependent on tourism, just like most all the beach towns on Costa Rica's Pacific Coast. With borders closed to foreigners, the town is empty.
Our school is empty. But our hearts are still full when we think of all the students all over the world who have studied with us.
This global covid-19 crisis is showing us how interconnected we are. There is fragility in being so dependent upon one another in a globalized world and economy. There is also beauty in our connectedness as humans. Traveling shows us our connectedness. It opens up a window for us to see how we are more alike than different and learning languages opens the front door. We get to step in, share parts of ourselves and learn about others. As different as our cultures are, we are more alike than different. We have the same needs. We are vulnerable to the same things. There is beauty in this fragility. The name of our school, Intercultura, touches on this beauty.
Our mission has been not just to teach languages, but to connect cultures, to connect humans with one another. Our school is a community. Our staff is a family. Our students are our extended family. This is what we have strived for and our students reaffirm that we are successful in creating this.
Both our campuses are officially closed. As with many schools, institutions, and businesses, we have made a quick scramble to transition to virtual classes and online education. Most of us are now working from home. Our teachers will be here, honoring social distance, using the open space or empty classrooms for online classes. Our administrative team will take turns in the office, keeping up, keeping us moving forward. Technology is amazing. And while it will never replace the value of face to face connection and in-person instruction, it allows us to remain connected. As people all over the world go inside their homes, slow down, find stillness, we are seeing all the amazing ways our technology is allowing us to connect, to maintain physical distance while building social connection.

***
Back in March, a few of us walked out in front of campus. The beach is closed, yellow tape running along the row of palms, the entire length of the bay. We shared ideas, took a few pictures, and enjoyed a few laughs, even though behind these laughs exist the same anxieties and fears, uncertainties about the future of our community and our individual lives that everyone is feeling.
But there is hopefulness. The waves keep coming onto the shore. The ocean sparkles blue and green, more vividly than ever.
The long beach of Sámara is beautiful, peaceful and serene. The pelicans surf the waves. Isla Chora remains in the near distance. Life has slowed down, but it does go on.
We are settling into the slower pace, this forced pause an abrupt change to many of our lives. I think that as a global community, we are in a process of reevaluating our needs and redefining our values. We may not need a lot of the things and stuff we have been attached to for so long–but it is quite obvious that we need human connection. More than anything, we need connection. We need understanding, patience, mental stimulation and creativity. These are all things that come along with learning (and teaching) a language too. Patience. Understanding. Connection.
Stay connected with us and keep learning. Slow down, but continue to be stimulated. Get creative. We move forward in the process of building an online global community of learning. We'll be here, with the beautiful Pacific sparkling behind us. Join us anytime!
written by Amy Schmidt
Group and Volunteer Coordinator & Yoga teacher