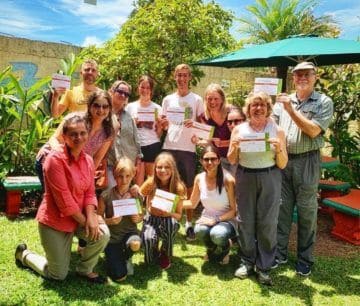 A Teen Story – Schulyer Jones, 16, California
On July 7th, I returned from a three week adventure in Costa Rica.
I had the amazing opportunity to participate in a language immersion program in Heredia.
It was also my first time traveling outside of the country by myself. Traveling alone was definitely nerve wracking; although I soon found myself falling in love with Costa Rica. If you did not know, the country's unofficial slogan is "Pura Vida". It translates to pure life but means even more. Used for greetings, thank yous, positive affirmations, or simple reflections on the beauty of life, pura vida captures Costa Rica's loving and laidback spirit.
Heredia is a lively town full of markets, shops, parks, and people.
One of my favorite activities in town was to pursue the unique and cultural food sold by local vendors. The hot and humid climate is perfect for the production of sweet fruits and crisp vegetables. There was not a time I left the market without a bag of juicy red rambutans for only a thousand colones (about two US dollars). During breaks I would relax in "el centro". El centro in downtown Heredia boasts tropical flora, benches and tables where everyone has access to free wifi, a gazebo, a grand fountain, and one of the oldest churches in Costa Rica, built in 1797. Could one find a better place to do their studies?
I found myself loving the pura vida culture.
Aside from learning about Costa Rican culture, my immersion program offered half day Spanish classes on the weekdays. I was often the only student in my classes which were rigorous but greatly improved my fluency. The classes at Intercultura Costa Rica complemented my homestay perfectly. On the streets and with my host family I greatly improved my conversational skills and built up my confidence in speaking. In class I expanded my knowledge of the different tenses and the subtleties of grammar.
Every Tuesday and Thursday, I also volunteered at a local daycare.
The first day we played games like hide and seek, watched a Spanish television program during lunch, and settled down for some art projects in the afternoon. As a camp counselor, I thought it was amazing just how similar kids are, even when they're from across the world. I will never forget my stay in Heredia and will value all of the lessons I have learned from it. I highly recommend doing any type of study abroad program; it is sure to broaden your perspective and leave you looking at the world with wonder and curiosity in your eyes.
Schulyer Jones, California, U.S.A, 16 years, 3 weeks, June-July 2019