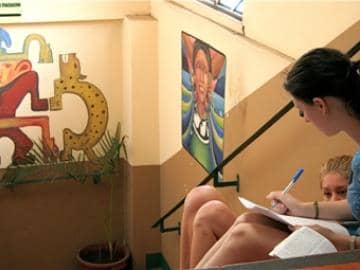 Spanish isn't just vocabulary – it's music, food, family and fun!
If you want to improve your Spanish, there's no better way than to travel to a Spanish-speaking country. Sure, you can study at home but you miss the opportunity to speak, see and hear Spanish all day outside of the classroom. Costa Rica is a great option to learn Spanish and I went the Intercultura Language School in January and had a blast learning Spanish! I stayed with a Costa Rican family which was an incredible help. The host family took me everywhere with them: to family birthday parties, to the grocery store, to the beach, and even to my host mother's daughter's wedding!
The cultural experiences I had were invaluable. I had a great time in salsa dance classes, typical Costa Rican cooking classes, and I participated in many language exchanges with local Costa Rican students. Every extra cultural class was a great opportunity for me to reinforce my Spanish outside of class, and I felt like I was more part of the culture. That's the thing about Spanish- it's not just a language- it's an experience!
If you're not able to travel to another country to study, I recommend immersing yourself as much as you possibly can by speaking, listening reading Spanish every day. How can you do that? Change your email and Facebook settings to Spanish. Set your radio channels in your car to Spanish music. Subscribe to Spanish-speaking channels through your cable company. Find Spanish-language magazines and newspapers online to continue learning about different countries and to expand your vocabulary. All of these methods will help you become a more well-rounded Spanish speaker; and when you are able to finally travel, you'll be speaking like a pro!