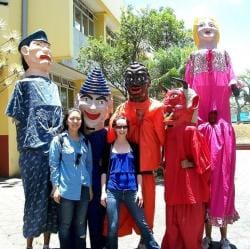 Part 2: Studying Spanish in Costa Rica, learning the culture
After my first day in Costa Rica, I quickly began to adjust to the new culture. Nevertheless, there were many times in the beginning when I felt completely lost, utterly lonely, and desperate for some familiarity. This had been the first time I had ever traveled outside of the United States by myself, and without a return date in mind. I almost felt stranded in some strange land, where I didn't speak the language, I didn't understand the customs, and I didn't have my friends and family near to support me. Despite my solitude, I managed to move forward. I enrolled myself in Intercultura's Spanish Intensive program, which helped tremendously! For a grueling 20 hours a week I was studying Spanish, and with each day I noticed major improvement. Although it was difficult, I am so very glad I stuck it out! I began speaking more Spanish than ever before, which allowed me to participate more in the Costa Rican culture.
After completing one month of Spanish classes, I decided it was time to get serious and find a job. After all, I couldn't keep taking classes if I couldn't pay for them! Therefore I searched and searched and finally landed a job with a political call center in Sabana Sur. Every day I worked my mandatory eight hours, receiving calls and collecting donations; and outside of work I began making more friends and creating a social life for myself. I even started dating a Tico! My life in Costa Rica seemed to be getting better every day. I felt more comfortable in my household- in fact my new family treated me exactly like one of their own daughters. I was practically adopted! I started involving myself with activities that I used to do in the United States, particularly dance, as well as began travelling around Costa Rica to experience all there is that this beautiful country has to offer.
The lesson I was slowly beginning to grasp was that to learn the language, one must completely surrender to every aspect of the culture- its music, food, pastimes…everything! Only once you've fully integrated yourself can you truly absorb the language. And that's exactly what I did!
By Katie Horch