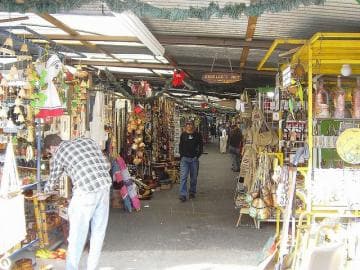 Mercado Artesania in San Jose – Don't Miss it!
This past weekend a friend of mine was visiting from the U.S. and of course wanted to bring back some great souvenirs to her friends and family that were unique to Costa Rica. After spending a good while searching on the internet, I decided to ask a few Ticos instead- all of which pointed me in the same direction, to San Jose's Mercado Artesania.
From Intercultura in Heredia, we jumped on a bus to San José and arrived at the busy square where the National Theater makes its home. Just a few short blocks away was this hidden gem, the Mercado Artesania. The outside was not very promising, but we took a chance and walked through the wide-open entrance and were immediately in awe!
The mercado was about 150 meters long and was full of beautiful and typical Costa Rican arts and crafts. We spent well over an hour in there searching through all of its treasures, among them bags, bowls, jewelry, home décor, blankets, candles, and more! All were made by hand and individually unique. I recommend the Mercado Artesania to anyone who is visiting Costa Rica. Make it a special trip while you're exploring the capital city, and don't hesitate because it is rumored that this special market will soon be moving to another location!
By Katie Barrantes