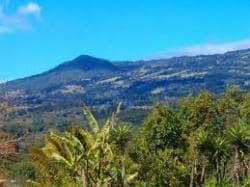 After spending a few hours studying Spanish in the morning, you might be wondering what types of things you can do to relax, have fun, and practice the language. Heredia is full of places to go and things to see while there's still daylight. If you're interested in adventure, check out the Barva Volcano. It is located up in the mountains of Heredia and features a nice, long hike with beautiful views of the valley (about 3 hours to get to the National Park). After reaching the Barva National Park, the scenery drastically changes and vibrant shades of green are everywhere! The park is cool and wet, so make sure to wear appropriate clothes.
If you're into something a little less outdoors, the Paseo de Las Flores mall has a great movie theater with new films from the U.S. accompanied with Spanish subtitles or dubbed. Take a walk around the mall and do some window shopping afterwards or grab some delicious gelato in the food court!
Just an hour drive from Heredia is the Poas Volcano and the Paz Waterfall attraction. Both are a definite must-see if you are interested in nature and animals. If you're looking for a little thrill, you can also venture into San José and take a ride on a roller coaster at the Parque Diversiones.
If you'd like to live as the Ticos do, I suggest taking a seat at one of the many benches in the Central Park here in Heredia. Enjoy the sunshine and warm temperatures year-round with a granizado, or Costa Rican snow cone, while watching the people interact.
There are so many fun things to keep you busy after studying hard in Spanish class so take advantage of the free time you have and try something new! ¿Porqué no? Why not?
By Katie Horch