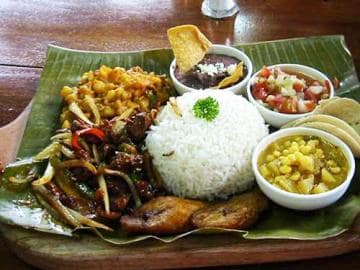 While studying Spanish here in Heredia, it is important to involve yourself in the entire culture of Costa Rica–not only the language! What better way to learn more about the Tico culture than experimenting with their food? Heredia is a city that has a rich and diverse gastronomy, and I, being a huge foodie, have put in some work searching for the absolute best restaurants this town has to offer!
If you are looking for typical "casados" (a Costa Rican meal including your choice of meat, served with rice, beans, plantains, salad, and natural fruit drink) then I recommend the following places:
1. Mambo Café—located only one block east of the Intercultura school, it usually has about 5 different main dish options, all very tasty, and with a comfortable price tag to match (2,500 colones or about $5)
2. Aromas Café—located in front of the Intercultura school, it is a smaller, quainter option that has an average of two options per day. The food always has great flavor, and the owners are super sweet! They also sell reposterias or baked goods and coffee all throughout the day (2,500 colones for a casado).
3. Mr. B—located just around the corner from the Central Park, it is a great place to eat if you want to try a large variety of different Tico foods and if you bring your appetite! They will load your plate with three different sides, (anything from rice and beans, to veggies in cream sauce, to garlic mashed potatoes) one large serving of the main dish (you choose between about 7-10 options), and then you have your choice of salad amongst many different kinds. Not to mention, you get an ice cream cone after you've demolished everything! (3,600 colones or $7)
If you need to spice up the daily servings of rice and beans, you might want to try some international food. Check out these restaurants below to shake it up a bit:
1. Antica Roma—located near the National University in Central Heredia, this Italian gem will blow your mind with their inventive menu of over 60 different kinds of pizza! Don't forget to wash everything down with a typical Italian dessert. If you're looking for a hot spot to grab an alcoholic beverage afterwards, across the street is the Hotel Vallodolid that has a bar with a view on the very top floor. Expect to pay between $10 and $15 per person.
2. Más Tequila—located at the Paseo de las Flores mall, here you can find some great Mexican food including nachos, flautas, enchiladas, and fish tacos. The real reason people keep coming back to this great night spot is for the 2 for 1 Happy Hour Margaritas throughout the week! (HH margaritas $8 for 2, meals from $5-$10)
If you enjoy food as much as I do, then put on your walking shoes and take a short jaunt through Heredia to taste the treasures you will find at any one of these restaurants. You'll be glad you did!
By Katie Horch