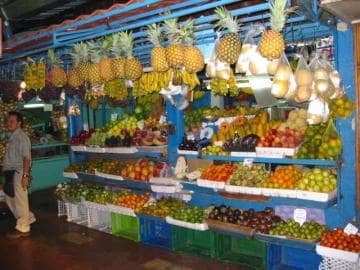 Heredia's Central Market: Fresh Fruit, Veggies and Pig Feet
Last week I was walking home when I saw a group of Ticos right off the road. My interest piqued and I decided to see what all the commotion was about. To my surprise, what I thought was a small space opened into a long hallway. A maze of entrances and exits expanding a couple city blocks make up what the locals call the Mercado Central or Heredia's Central Market.
Hesitantly, I entered the market with eyes the size of saucers. The main hallway was lines with every fruit and vegetable you could imagine, including those that I had never seen before! Each vendor kindly greeted me and offered their assistance. I began aksing questions about the new fruits and vegtables that I saw. There was this spikey, round and red thing that I found out to be called a mamón chino, known as a lychee in Asia.
It is a fruit that you break open and suck on the fibrous seed until you get down to the pit. I daringly tried on and although the slimy seed intimidated me, I thought it tased pretty good. It has a sour with a subtle sweet flavor.
I saw starfruit, or carambola, a large green and spikey fruit called guanábana, a gourd that resembled an old toothless man. Then there was chayote, papaya, pineapple and yuca. Costa Ricans use many of these fruits to make natural fruit juices.
I later ventured into the depths of the market and discovered people selling meats at carnicerías or butcher shops. I didn't recognize some of the meat, but they did have you usual ground beef, chicken, pork and fish. The also had your not-so-usual pig feet, entire pig legs, cow tongues, and a whole bunch of mystery meats.
There were also stores selling arts and crafts and restaurants with typical Costa Rican dishes or casados. I could have spent hours in Heredia's Central Market. There were so many different things to see and interesting things to try. This weekend I have plans to go back to the Central Market and practice my Spanish. Maybe then I'll be brave enough to try the mystery meat, or maybe not!
Follow us also on Facebook and Instagram for more Tips and News.