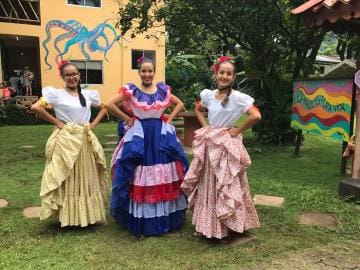 Culture in Guanacaste, Costa Rica
Posted by

Date

July 3, 2018
July 25th is the most important cultural holiday in the province of Guanacaste
Guanacaste in Costa Rica is not only well-known for its spectacular beaches but also for its abundant farmlands, dry forests and cowboy-esque culture. Some of the major towns of the province such as Liberia, Santa Cruz, and Nicoya proudly celebrate Annexation Day with a wide variety of cultural activities such festivals, topes de payasos, folk dances, bull riding, parades, and others.
Annexation Day is a time for Guanacastecos to show how proud they are of their culture as well as to honor the traditions passed down from their ancestors.
Guanacaste is also synonymous with "bombas", one of the popular traditions.
"Bombas" are oral expressions, mostly quartets, that deal with aspects of the daily life of Guanacastecos. Together with students and staff our Spanish teacher Farid Nema shows you an example of this so called "bomba". See video below. Farid does not only love the culture and traditions of his province but is also well known for his "bombas and retahilas". Every year he participates in many folkloric festivals around the country.