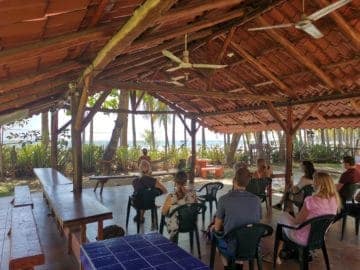 COVID FAQs for Spanish Study in Costa Rica
1. Is it possible to travel and study Spanish at your school in Costa Rica?
Yes, studying Spanish here in Costa Rica on our campuses is totally possible! We are open and gratefully receiving students for all onsite programs. We reopened our beach campus as soon as government mandates allowed and international borders reopened. For our first week open post-Covid, we received one student! And each week we have more. Campus is lively again—but still safe and comfortable.
2. How many students do we currently have at our Sámara Beach Campus?
We are finding it hard to predict enrollment in advance. Since Covid, most people are booking last minute, as travel can still seem so uncertain. We currently have between 30 and 50 students on campus.
3. What are the Covid measures in place?
We wear masks indoors in all buildings, on public transportation, and in taxis. At Intercultura Costa Rica, we require that our students and staff wear masks at all times. We have an extra sink at the outside gate for handwashing plus sanitizing stations in various places. We are operating at 50% capacity until we are told otherwise.
Yes! We have many families who are excited to be hosting students again. Our families are taking all necessary precautions and we ask that our students who choose homestay do so with the highest amount of respect for our community, our host families, and public health in general, and that they follow all mandated safety and health measures while in our town and school.
5. Residency Housing, what are the rules? What are the precautions regarding housing?
Our Student Residence is also open with safety precautions and rules in place: No parties. Quiet hours from 10 pm-7 am. Only registered guests allowed on the premises. We have fewer guests to each shared room. The largest room holds 4 now and the next one holds 3.
6. What kind of fun activities can I do while I'm at Intercultura?
You can have as much fun as you can handle! Included in your tuition are daily on-campus activities such as yoga, cooking, Latin dance, zumba, and artesanía (jewelry-making). These classes are a fun and engaging way to learn more about the local culture and connect with your classmates. We can also arrange all kinds of fun off-campus adventures. These are not included in your tuition but we find the best guides and rates around. Some popular tours are kayaking to a small nearby island and snorkeling at the reef, a dolphin and whale watching adventure, horseback riding, or guided nature hikes.
We can also organize weekend excursions to some of the most interesting places in Costa Rica. And if that all sounds like a lot–no problem. Sámara is the perfect place to relax on the beach, watch the sunset, enjoy a ceviche and a cold beer or fresh fruit smoothie, and just watch the tides come in and out. Whatever activities (or none) you choose, you will enjoy!
7. What is Sámara like at the moment?
Samara is beautiful! You're going to love it here. The beach is long, the sunsets are gorgeous and the waves are usually quite gentle. In respect to Covid, life feels pretty normal. Of course we wear masks inside buildings and taxis, but this is a small town with plenty of space, so it is easy to make distance from other people. Restaurants are open air and nightlife is slowly returning, but dance clubs and discos are still not open and bars close early. People value the community here—so even though life feels relatively normal, we ask our students to follow all mandates and respect the local community while they live and study Spanish among us.
8. What specific travel/enrollment restrictions are in place related to COVID-19?
In order to enter Costa Rica, every tourist must have a travel health insurance that covers a possible Covid infection during the stay (insurance has to cover at least 50.000USD in medical treatments and a minimum of 2.000USD of accommodations costs in case of an ordered quarantine).
For any up-to-date information about travel restrictions to and in Costa Rica please follow our Coronavirus Updates.
9. How else can I be engaged aside from studying Spanish in Costa Rica?
Before Covid, we partnered with many amazing projects around the country that hosted volunteers. These projects each have a different process for reopening and so currently we are focusing work with just a few of them. If you are interested in a structured volunteer program, we can recommend a few different options for you, including some nearby turtle conservation efforts and an environmental project in Monteverde. We require that you complete mínimum two weeks of Spanish classes and most projects require mínimum two weeks of work. So we ask that you come prepared to commit to working and studying hard!
10. What is the cancellation policy if COVID-19 cases begin to rise again?
We understand that traveling is still uncertain. We want all our students and potential students to feel as safe as possible, including in respect to their finances. For now, we are not requiring our usual deposit to hold your space. You can book your program at any time, make modifications, postpone, or cancel without any fees. We ask that you pay for your program in full on your first day of class.
Cancellation if already onsite
If the cancellation is NOT because of Covid, normal rules apply. If it is because of Covid (school closes or people are asked by their government to leave) we can hold payment for a credit, rebooking, or transfer to online class programs.
This was helpful and now you are feeling ready to book your Spanish immersion program? Click the button below!